Newsletter Issue 3 | Mar 2010
Florida Eye News and Views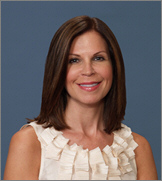 Hello and welcome to issue three of our newsletter!
We are happy to report that many needed items — from foods to toiletries to packing supplies — were collected during our Forgotten Soldiers Outreach Collection Drive this past holiday season. The drive was conducted from Thanksgiving through December and patients, friends and members of the community were kind enough to stop by our Boca, Boynton and Wellington offices to drop off items for our troops stationed overseas. Thanks so much to all who participated. You can read more about the drive in our Newsroom.
In other community news, Palm Beach County optometrists and ophthalmologists were gracious enough to join us in our quest to provide eye care supplies for the rescue and relief efforts in Haiti. We collected a tremendous amount of items. More on this effort can be found in our Newsroom or below in this newsletter.
Our last educational seminar, which we sponsored for the Palm Beach County Optometric Association, was not only educational but actually fun too, according to the feedback we received. Our next seminar will be held May 5th. Stay tuned for more information about the event in upcoming weeks.
Much more going on at Florida Eye as you'll see in our newsletter! We hope you enjoy this issue and please feel free to keep sending in your eye care questions to our doctors for possible inclusion in future issues. Email your questions and comments to [email protected].
Best,

Gwen Cohan
Director of Marketing & Public Relations
In this Issue:
Florida Eye Spearheads Eye Care Collection Drive for Haiti »
National Glaucoma Awareness Month »
Florida Eye Spearheads Eye Care Collection Drive for Haiti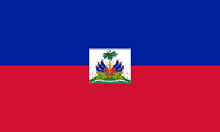 In response to the catastrophic devastation that struck Haiti, Florida Eye Microsurgical Institute spearheaded a drive to collect any and all medical supplies and medications related to eye care, including everything from eye drops to alcohol wipes to cotton gauze. All items collected were dropped off bi-weekly to Toussaint L'Ouverture High School in Boynton Beach on a regular basis. The school had private planes fly out supplies as often as possible, and goods were also shipped through the Port of Palm Beach.
After six weeks the drive ended because the American Red Cross asked for monetary donations instead, so that workers could purchase exactly those items that were needed and continue to be needed in Haiti. The Red Cross expressed its gratitude to Florida Eye for our efforts.
National Glaucoma Awareness Month
Florida Eye Shares Important Information About Glaucoma with Patients and the Public
January was National Glaucoma Awareness Month, and Florida Eye took that opportunity to educate patients and the public about the disease, which is the second leading cause of blindness in America.
With glaucoma as the second leading cause of blindness in the United States, the doctors at Florida Eye Microsurgical Institute took advantage of the fact that January was National Glaucoma Awareness Month and sent out emails to patients and the media to spread the word of the importance of routine eye exams.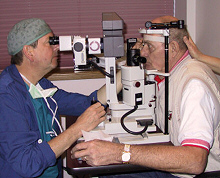 In 2009, physicians at Florida Eye Microsurgical Institute performed more than 7,000 glaucoma-related eye exams. "Glaucoma is the silent thief of sight, as it is painless and people sometimes don't realize they have a problem until they have lost significant amounts of vision," said Barry Schechter, M.D., F.A.A.O. "Anybody with a family history, diabetes or nearsightedness is at increased risk and should be screened annually," advised Florida Eye's refractive cataract surgery, cornea, glaucoma and external disease specialist.
PBCOA Seminar a Success!
Palm Beach County Optometric Association Meeting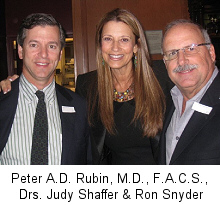 Florida Eye sponsored the PBCOA educational seminar and meeting which was held on Wednesday, January 13th at the Pavilion Grill in Boca Raton. After a mix and mingle cocktail reception in the restaurant's Atrium area, attending optometrists were treated to a delicious dinner and a terrific educational presentation by Ophthalmologic Plastics & Orbital Surgery Specialist Peter A.D. Rubin, M.D., F.A.C.S. Dr. Rubin, who practices out of our Boca Raton facility, presented Update and Controversies in Thyroid Eye Disease, and the feedback was all positive.
PBCOA President Amy Pikal was very appreciative of Florida Eye's involvement in the event. "Many thanks to the doctors of Florida Eye for sponsoring this educational seminar and dinner meeting," said Dr. Pikal. "We enjoyed meeting Dr. Rubin and listening to his lecture on thyroid eye disease."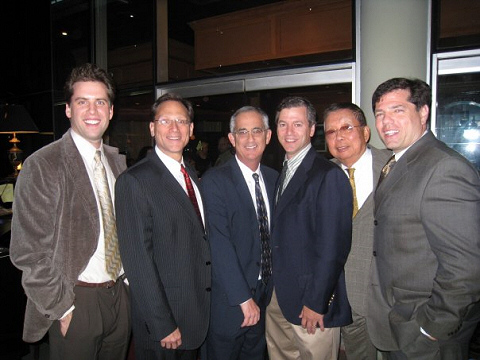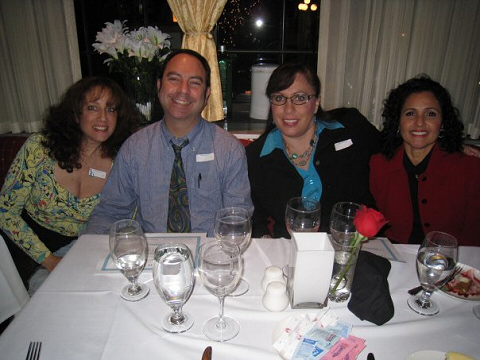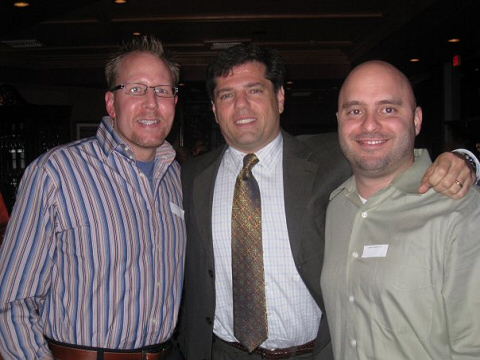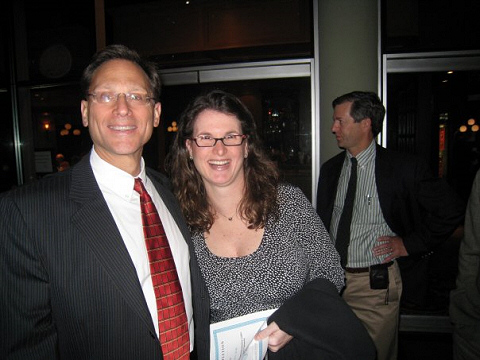 Upcoming Seminar in May
The next seminar to be hosted by Florida Eye will take place on Wednesday, May 5th at 6:30 p.m. The venue and speakers will be announced in the next week or so, and doctors will be able to sign up for the event online.
Florida Eye in the Media

Florida Eye popped up in the media numerous times over these last few months, between our relief efforts for Haiti (see the Sun Sentinel Boynton Beach Forum article featuring Dr. Jason Gorscak in our Newsroom and other coverage at the Sun-Sentinel website) and our Forgotten Soldiers Outreach drive (WPBF.com, SunSentinel.com), but we also made news when a Wellington baby was born with a rare condition called "Anophthalmia," meaning she was born with no eyes — no ocular tissue at all.
Dr. Lee Friedman of Florida Eye is baby Brielle's pediatric ophthalmologist, and he was recently interviewed by WPBF Channel 25 reporter/anchor Angela Rozier about the baby's medical condition and what is to be expected in terms of treatment for her future. (Watch and read this and all of our other stories and articles in our Newsroom.)

The national news magazine show Inside Edition came down to interview Dr. Friedman for a segment on the baby as well, but an air date has not been set as of this newsletter due to other news developments. We will let you know when it's going to air as soon as we know!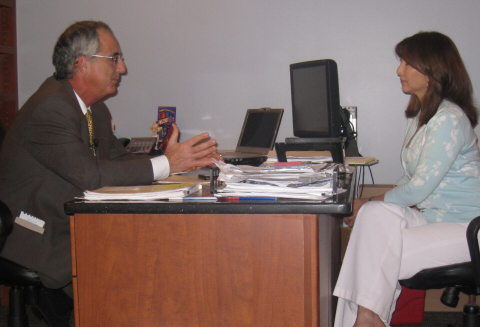 Dr. Friedman was also interviewed by Chandra Bill, WPTV Channel 5's reporter/anchor for a segment on PediaVision, a new device that is revolutionizing vision screening in very young children. The story focused on the idea that up until this device, there really wasn't a way of knowing vision problems might exist, because as babies and toddlers, kids can't verbalize their concerns. Of course children don't even know there could be concerns because they think the way they see is how everyone sees. With PediaVision, it takes three seconds to find out if a child as young as fourteen months has any vision issues. Read more about this in our Newsroom.
Clinical Trial Information
Lucentis
According to Dr. Randy Katz, Florida Eye's Vitreo-Retina, Diabetic Retinopathy, Retinal Detachment & Macular Degeneration Specialist, "We have a new trial starting using a new anti-PDGF drug by ophthotech, which will compares Lucentis with anti-PDGF medication to just Lucentis. The initial trial results showed that 60% gained 3 or more lines of vision compared to 40% for Lucentis alone."
If a doctor refers a patient for either of these treatments, Dr. Katz would of course update the participating doctor on the patient's progress and return the patient to the doctor's care at the end of the study. The sponsor covers all expenses and costs of these trials.
For more information, please call Study Coordinator Debbie Rankin at (561) 736-5055 or email her at [email protected].
Eye Care Questions
Dear Dr. Katz:
My wife was recently diagnosed with Type 2 diabetes. She's doing her best in keeping her blood sugar under control with diet changes, and she's even exercising again. But even with these precautions I'm worried because I read that diabetes can affect your eyesight. Should I be?
Answer

The answer is yes — as a diabetic, your wife is prone to some eye conditions. One of the most common is diabetic retinopathy. Diabetic retinopathy is caused by elevated blood sugars that over time cause damage to retinal blood vessels. This damage to retinal blood vessels causes both fluid leakage and/or bleeding in the retina. Leakage causes blurred vision while bleeding can ultimately cause blindness and permanent loss of vision.
The good news is that with proper care (routine eye exams) and treatment the damage from diabetic retinopathy is preventable. The key is picking up early changes from DR and treating them before any symptoms occur (blurred vision). The only way to accomplish this is with regular and routine eye exams even before you are noticing a problem.
Dear Dr. Schechter:
My doctor told me I am a perfect candidate for lens replacement surgery. I am excited about the prospect of not needing to wear my glasses, but how can I know which lens is the correct one for me?
Answer

I would say that your surgeon will help decide which lens may be best for you based upon your needs, wants and desires for vision post-operatively. Your vocation and how you like to spend your free time will figure heavily in which lens implant will better suit your needs and lifestyle.
Dear Dr. Gorscak:
I have ocular rosacea. I have extremely dry eyes and I am taking lubricating drops and steroid drops. Can aspirin or ibuprofen worsen dry eyes?
Answer

I am not aware of aspirin or NSAIDS worsening dry eye. Primary treatment should be directed at the rosacea itself.
Different treatments that I like to use that have shown to be very helpful include omega 3 oils, flaxseed, lid scrubs, antibiotics (especially Azasite), Restasis, warm compresses, systemic tetracyclines and punctal plugs. Depending on the severity of the disease one or more of these treatments may be used.
Remember, this is a chronic problem that is often prone to flareups and with this you must be patient and accept long term treatment rather than cure. Your ophthalmologist is prepared to work with you on a long term basis, but only you can go home and do the treatments. Stick with it and you will be rewarded — don't give up when things temporarily worsen and don't stop treatment when you feel good, as you will relapse if you do.
Dear Dr. Chua:
I have a chalazion on my lower eyelid and have read that the best thing to do is use an Epsom Salt warm compress, but it makes my eye blurry after awhile. Is epsom salt dangerous to use with a warm compress (two tablespoons in 300 ml of hot water)?
Answer

Chalazia are cysts which occur in the meibomian glands of the eyelids. A variety of factors can cause chalazians, such as not removing make-up properly or rubbing the eyes frequently. Rosacea and other skin disorders can also lead to chalazia. When these cysts first appear, they may be inflamed and look like styes or even certain types of skin cancer. During this inflammatory phase, we generally recommend warm compresses. Stay away from hot compresses and epsom salts, because it is the heat and not the content of the water which works. Epsom salts, for this concern, are useless and potentially harmful to the tender skin of the face and eyelids.
Antibiotics are sometimes useful. Tetracyclines reduce inflammation and change the content of the glands. Macrolide antibiotics are also anti-inflammatory and alter the glands themselves. Both treat infection, which may be secondary or present if the lesion is really a stye.
Many times they go away by themselves. But often, they need to be removed to prevent recurrence. Dry eyes and/or blepharitis are often concurrent and must be treated as well to prevent recurrence. You should see your ophthalmologist to discuss possible treatments.
Cosmetic Specials
Spring is just around the corner and to celebrate Dr. Schechter is offering our holiday pricing for the entire month of March! Appointments are available in our Boca Raton and Boynton Beach locations.
Call (561) 736-5050 or email [email protected] or [email protected] to book your appointment with Dr. Schechter.
This offer is not valid with any other offers.
Final Tidbits
Dr. Schechter Published in Advanced Ocular Care

Dr. Barry Schechter will present his findings and innovations on DSEK corneal transplant surgery at the World Cornea Congress and also present on various dry eye treatments at the American Academy of Cataract and Refractive Surgery (ASCRS), both taking place next month in Boston. The World Cornea Congress is a meeting of world specialists in cornea that convenes every 5 years. Congratulations Dr. Schechter!
Dr. Schechter was published in the new trade magazine Advanced Ocular Care, landing the cover story for his article "NSAIDS and Newer Therapies May Overcome Atypical Inflammation." See the magazine at www.advancedocularcare.com and read the article in our Newsroom.
Dr. Gorscak's Monthly Lectures

Dr. Jason Gorscak continues to give monthly lectures at Wellington Regional Medical Center to very favorable reviews. "Thank you for contributing to the medical education of our residents," says Dr. Adrienne Miller, D.O., M.S.
---
Related Pages