Video Testimonials from Patients
Written Testimonials & Letters
All Around Kudos for Florida Eye
We are both so appreciative of the care that we received from the Florida Eye Microsurgical team Wednesday night, June 24th, 2020 during Richard's surgery as well as each and every time that we are at your Boynton Beach, Boca Raton, and Wellington facilities. To the surgical team: Dr. Katz, Dr. Qiunones, Cindy, Tracy, Dee, Angela, and Rhoda at reception – your professionalism, thoughtfulness, and good humor really helped Richard through this difficult time. And kudos to Juan, Wally, Bob, and others on Dr. Katz's team. Thank you. To Dr. Schechter, Danielle, and the rest of Dr. Schecter's team- as always, we appreciate your attentiveness and kindness each and every time we are at Florida Eye. Thank you. To all the staff of Florida Eye – you are all dedicated professionals and are the unsung heroes to both of us and all your patients. You are the greatest!

Thanks to all of you, Nina & Richard
Dr. Joyce Salomon raves about Dr. Katz
I have been referring retina patients, including family members, to Dr Randy Katz of Florida Eye Microsurgical Institute for many years. I have been impressed with his clinical skill and diagnostic ability. I have always gotten great feedback from my patients and they have always felt that they received excellent care. Recently, I noticed a retinal defect on my eye on a scan that was taken in my office. As an optometrist I understood the importance of having a retinal specialist look at this defect. After careful examination Dr Katz assured me that the defect was benign and didn't require treatment. After my visit to his office, I understood why my patients have such confidence in Dr Katz. He delivered compassionate and meticulous care. He is truly an asset to our community.

Sincerely, Dr. Salomon
Deborah chose to have the PanOptix Premium Lens with Dr. Jonathan Criss
I am so grateful I chose Dr. Jonathan Criss to perform my cataract surgery. My vision now is better than it's ever been. He is extremely intelligent, a compassionate and caring person and a truly outstanding doctor. I count myself truly lucky to have found him.

Thanks, Deborah
As always, we love hearing from our Florida Eye patients – especially when they are beyond happy! This gentleman underwent cataract surgery with Dr. Barry Schechter, and was so thrilled he took the time to write a letter. Thanks for your kind review. We will be sure to pass on your sentiments to Dr. Schechter and the staff.
I am an 80 year old male who had eye surgery for cataracts & trifocal lens (IOL) implants, beginning on June 17th 2021 by Dr. Barry Schechter. Six weeks later, I am totally pleased with the work that he performed. I can now see clearly on all levels, close up, mid-range, and distance, independent of wearing external eye glasses… (Download PDF to read entire letter.)

Thank you, from both my wife and me
Dr. Schechter, raising the bar for other physicians
There are no words to fully express my gratitude, but to you and your staff — Thank you, Thank you — for what you did, what you said & who you are. You raise a very high bar for other physicians because not only are you talented and proficient, but you give compassionate3 care (especially to 'Nervous Nellies' like me) to your patients. May life bring you a reflection of the kindness and thoughtfulness you have shown.

Ever grateful for your consideration, Bessie
And back on the golf course, thanks to Dr. Katz!
I am beyond ecstatic over the improvement with my vision, however, my wife wants to lodge a complaint with you because she says she never sees me anymore. That's because I'm back on the golf course every day, thanks to you!! From one golfer to another, you have my undying gratitude.

All the best, Al
After two failed transplants by a different surgeon, I found my savior in Dr. Schechter!
Dr. Schechter is my savior. I had two previous corneal transplants with a surgeon in Palm Beach, and both operations didn't take. I couldn't see and my eye also looked awful. I happened to run into a friend of mine and she told me I simply had to go see Dr. Schechter — that he worked miracles. Well, I saw him on a Wednesday, had the surgery on Thursday and before I even got up from the table I could see again. I kept saying, 'I see the light, I see the light,' like a crazy person.

It's been a year and a half and everything is wonderful. Dr. Schechter's whole approach is different. He takes charge and everyone at Florida Eye knows what they are doing. Wonderful staff. I absolutely adore Dr. Schechter and I recommend him to everyone.

Joy
Herb Foxman, once again a marksman extraordinaire!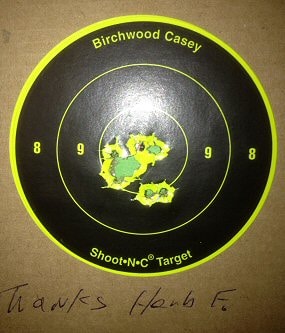 Herb Foxman, 75, has worn many hats… a former production engineer, a plant safety officer for RCA, a photographer, and now, thanks to Dr. Barry Schechter, M.D., F.A.A.O., he is once again a marksman extraordinaire! Less than one week after cataract surgery at Florida Eye, Herb went back to the shooting range, and when he came in for his post surgery checkup the sharpshooter brought Dr. Schechter a gift — the actual results of his first target practice since his surgery. Herb shoots a 22 caliber pistol, and he's been shooting every Wednesday at the local range. Problem was, he wasn't doing too well because every time he looked through the monocular to focus on the red dot, he would see three dots instead of the one. 'I was never sure which one was the center dot,' says Herb. 'Now I see one distinct dot.' Herb says after discussing his options with Dr. Schechter, he chose to have a standard lens implanted in his right eye. It was the right decision for Herb, who says, 'I don't even need glasses anymore. I see incredibly!'

Herb Foxman
21-year-old patient on Crystalens
I had to wear my glasses to put toothpaste on my toothbrush and I couldn't see my dogs, Black Jack and Sammie, my friends, or even colors very well. After Dr. Schechter implanted Crystalens in my eyes, I could see everything — my friends, my dogs, colors. Green is my favorite! I will never have to wear glasses again.

Becky
A very happy mom
Dr. Friedman and staff, I cannot express in words how much your experience, professionalism and careful hands mean to me and my family. You gave my daughter the precious gift of sight. I truly do not know how to thank you enough.

Anita
Referring to Dr. Katz's eyesight-saving surgery on a family's beloved pet
How nice it was to hear of your kindness of helping that sweet dog. You are a good man.

Roberta
Cataract surgery patient
Dr. Schechter, hands down you're the best! Only three days post surgery on my left cataract and I'm seeing beautifully. I'm so happy (but, my heavens, this apartment is very dusty – didn't notice it before!!!) Thank you very much and to your very kind staff, also.

Many thanks, Harriet
Eye surgery patient
Becky and Dr. Friedman, thank you so much for taking care of my son. His eye looks terrific. Also thank Becky for taking the time to assist me with my insurance to get us the best possible price. We truly appreciate your efforts.

Rose
Eye care patient
Dr. Katz, we appreciate your kindness and concern for the special treatment you gave us. You are a unique doctor and human being. Thanks so much!

David & Beth
Holiday donations
Dr. Friedman and staff, we would all just like to thank you very much for donating to families in need this holiday season. What you contributed made a difference in someone's life who really needed it.

Our community
Applause for the staff
I write to express my appreciation and bring to your attention the professionalism, patience and kindness of Chantel, a person who returned my call regarding a bill I received. She not only called my insurance company but she also phoned me after she learned they admitted to an error. I believe her actions went beyond professionalism and that they were competent, kind and courteous.

Hannah
Cataract surgery patient
Dr. Schechter, I am very grateful to you for my successful cataract operation. May God bless your hands as you continue your healing ministry. Thank you.

Josephine
And Doris can't say enough about Dr. Schechter
When I suddenly experienced blurry vision in my only seeing eye, Richard of Sea View Optical in Delray recommended your office, and you, specifically. In his opinion, you were 'the best.'

From the moment I arrived I felt well taken care of by every member of your staff, from the front desk to your highly able and caring assistants. Your "quick read" on my condition was communicated intelligently and empathetically… My fears of something worse were instantly allayed. After a few days my vision returned to normal. Richard was correct — you are the best.

Sincerely, Doris
Dr. Katz is a true asset for Donna's eyes
I just wanted to convey to you how much I appreciate having you as my retina specialist. Your expertise has been a true asset for my eyes, and I am thankful.

Sincerely, Donna
Bethesda Hospital Foundation receives a donation in Dr. Katz's honor
Dear Dr. Katz,

The Foundation recently received a donation in your honor for National Doctor's Day from supporter Lorraine P. Thank you for your dedication in providing the highest quality of healthcare and compassion to our community.

Sincerely, Kay Harvey, Executive Director
Bethesda Hospital Foundation receives a donation in Dr. Schechter's honor
Dear Dr. Schechter, The Foundation recently received a donation in your honor from supporter Geraldine S. We are honored to receive these gifts and we will direct these funds appropriately.

Sincerely, Kay Harvey, Executive Director
And Let Harry tell you why he chose Dr. Criss for his cataract surgery
Dr. Criss is the best! He did my cataract surgery, with great result. He helped me understand a retinal issue I have, and helped me decide what to do about it. He listened carefully and answered all my questions, when I wanted to discuss on line research I did. Highest recommendation!

Harry
Ivy had only great things to say about Dr. Criss
Dr. Criss saw me within 15 minutes of my arrival. While I was being examined he took the time to call my referring physician to discuss my condition. I really appreciated the fact that I was being treated as a person and not just a number. I Highly recommend Dr. Criss.

Thanks again, Ivy
And Dennis Chose Dr. Criss to treat an eye infection
I think that Dr. Criss is a top-notch opthalmologist. I am both happy and relieved to be under his care for a serious eye infection.

Dennis
Rave reviews for Dr. Rowlands!
Dr. Rowlands is phenomenal! It is so rare to find a genuinely compassionate and upbeat doctor, but she truly cares about her patients. She always takes the time to answer my questions and make sure that I always leave with a clear understanding of how my eyes are doing. I wish more doctors were like her!"
And applause for Dr. Naids!
Dr. Naids and his entire staff have been nothing but professional, courteous, understanding, patient, and kind. I recommend him highly for any needs you would have for his services.
Let's hear it for Dr. Walsh!
I had an excellent experience with Dr. Walsh! Dr. Walsh was amazing, he was warm, thorough, and very informative on educating me on my eye condition. I love my new prescription.
---
Related Pages