Newsletter Issue 14 | Dec 2011
Florida Eye News and Views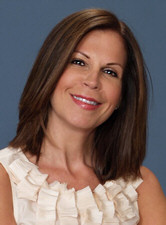 Gwen Cohan
Dear Readers:
It's certainly been busy here; new clinical trials, new developments and yet another new baby for our growing Florida Eye family.
In this issue we have some very interesting study findings to share with you: one regarding a new medical device that can be implanted in glaucoma patients, and another study suggesting that changes in how genes in the body's immune system function could play a central role in the development of age-related macular degeneration (AMD).
In regards to the first study, Dr. Schechter was an investigator for a similar trial. Inside he shares his thoughts on the device. And Dr. Katz just finished a macular degeneration study related to the AMD trial mentioned above.
There's much more inside, including an article on the benefits of rosemary for your vision, holiday safety tips for purchasing toys and an update on the Rosa Richard's Scholarship Fund,
We wish all of you a happy, safe and sparkling holiday season. Please remember to have your eyes examined annually, as it's the only way to ensure you'll be able to enjoy the holiday lights and sights for years to come.
Happy New Year!

Gwen Cohan
Director of Marketing & Public Relations
In this Issue:
New Medical Device for Glaucoma Treatment »
Rosemary Beneficial for Retinal Diseases »
Rosa Richard's Scholarship Fund Update »
Current Clinical Trials

Dr. Schechter
From Dr. Barry Schechter:
We are now enrolling patients for a year-long dry eye study. Glaucoma patients using eye drops are not eligible to participate. There are other exclusions. Please call for details if interested. Participants will receive $50 per visit.
From Dr. Katz:

Dr. Katz
We have one study for wet AMD for sub responders to Lucentis and/or Avastin. This study is for patients who have received 3-10 injections of Lucentis and/or Avastin within a year from diagnosis, with the last 3 treatments being with the same drug consistently.
Screening is 28-65 of the last injection, and the last injection must have been given no longer than 3 months ago.
We have a second study for wet AMD using eye drops that cut down on the need for injections. The study combines Lucentis and the study eye drops Squalamine Lactate, which are administered topically. "It is hoped that with the administration of these eye drops twice daily," says Dr. Katz, "the frequency of intravitreal injections will be greatly reduced." The study is placebo controlled (for the drops). All get Lucentis but must have insurance to pay for the Lucentis. Participants will receive $50.00 per visit, no lab and must come for 12 visits over 38 weeks.
Squalamine Lactate was originally isolated from dogfish shark and has been shown to have antiangiogenic (inhibits blood vessel growth) properties. However, unlike currently available drugs that only have activity against VEGF this drug has been shown to have activity against platelet derived growth factor (PDGF), basic fibroplast growth factor (BFGF) as well as vascular andethelial growth factor (VEGF). "This drug represents a new and exciting treatment method in the treatment of AMD," says Dr. Katz. "Florida Eye enrolled the first patient in the country for this study a week ago."
Future Studies…
We have another study for treatment naïve wet AMD patients for Eyelea. Phase IV, participants are guaranteed to get Eyelea. No AMD in the fellow eye allowed. We will begin enrollment for this trial late January or early February.
For more information about any of these trials contact Debbie Rankin, Florida Eye's study coordinator at 1 (561) 736-5055 or [email protected]. More information can also be found on clinicaltrials.gov.
A New Medical Device for Treating Glaucoma Right for You?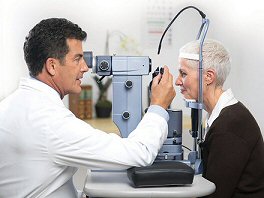 According to a recent article in Medical News Today, some glaucoma patients currently using eye medication drops may soon be switching from drops to an ultra-small drainage device. The year-one clinical trial results reported that a tiny medical device no larger than an eyelash may significantly reduce eye pressure in glaucoma patients and allow some to stop using eye-drop medications.
Results of the HYDRUS I clinical trial, which indicate successful control of eye pressure in all study participants, were presented at the 116th Annual Meeting of the American Academy of Ophthalmology, jointly conducted this year with the Asia-Pacific Academy of Ophthalmology.
Florida Eye's Dr. Barry Schechter was an investigator for the clinical trial of a similar device, the istent from Glaukos which is now FDA approved.
"The pressures are better with these implanted devices but I feel
that it is not significant enough for us to offer this as a primary treatment option.These devices are somewhat helpful and have a much lower side effect profile, but they are not as definitive as other glaucoma procedures such as trabeculectomies or tube shunts," says Dr. Schechter, adding that "if improvements are made in the future we would consider offering them to the appropriate patients."
A Recent Study Suggests Our Immune Systems Could Play a Central Role in AMD Development…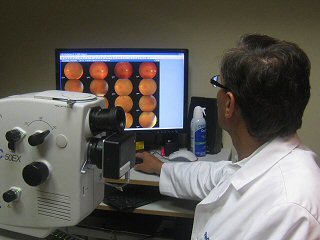 Changes in how genes in the immune system function could result in age-related macular degeneration (AMD), the leading cause of visual impairment in older adults, was the subject of a recent article posted in the National Institute of Health News.
These findings were based on preliminary research conducted by National Institutes of Health (NIH) investigators. "Our findings are epigenic in nature, meaning that the underlying DNA is normal but gene expression has been modified, likely by environmental factors, in an adverse way, said Dr. Robert Nussenblatt, Chief of the NIE Laboratory of Immunology.
Interestingly enough, Dr. Randy Katz, Florida Eye's Macular Degeneration, Diabetic Retinopathy & Vitreo/Retina Specialist just completed a similar study. "The purpose of the study conducted at Florida Eye was to try to prevent the dry type of macular degeneration from progressing," said Dr. Katz. A humanized nonoclonal antibody directed against the complement component Factor D (This is a vital component needed in the inflammatory pathway.) was injected directly into the eye.
"By inhibiting Factor D," said Dr. Katz, "it is hoped that damage caused by inflammation can be prevented in the eye thus preventing age related macular degeneration and its visual loss."
The study has been completed and results from this trial are anticipated shortly and will be presented at an upcoming meeting. For more info on the doctor's completed study, contact [email protected].
Evidence that Rosemary Might Help Fight Some Retinal Diseases..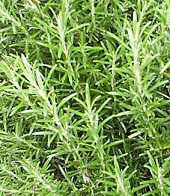 A study report released in the November ARVO journal, Investigative Ophthalmology & Visual Science, found that Carnosic Acid (CA), a compound of the herb Rosemary, may potentially have clinical application to diseases affecting the outer retina, including age-related macular degeneration and retinitis pigmentosa, in which oxidative stress is thought to contribute to disease progression.
Tips for Choosing Safe Toys This Holiday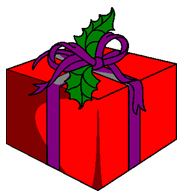 No one chooses gifts with the intent to harm, but some popular children's toys can cause serious eye injuries. According to the U.S. Consumer Product Safety Commission, more than 250,000 toy-related injuries are treated in emergency rooms each year, and almost half of these injuries affect the head or face – including the eyes. Unfortunately, most of these injuries happen to children under age 15.

Dr. Friedman
Dr. Lee Friedman, Florida Eye's Pediatric Ophthalmology, ROP & Pediatric & Adult Strabismus Specialist says that many of these accidents can be avoided by reading labels and using some common sense.
Below are some tried and true tips for making the holidays safer:
Avoid purchasing toys with sharp, protruding or projectile parts.
Make sure children have appropriate supervision when playing with potentially hazardous toys or games that could cause an eye injury.
Along with sports equipment, give children the appropriate protective eyewear with polycarbonate lenses. Check with your Eye M.D. to learn about protective gear recommended for your child's sport.
Check labels for age recommendations and be sure to select gifts that are appropriate for a child's age and maturity.
Keep toys that are made for older children away from younger children.
If your child experiences an eye injury from a toy, seek immediate medical attention from an ophthalmologist – an eye medical doctor. For more important holiday eye safety information visit Eye Smart.
Florida Eye in the Community
At the Delray Villas Health Expo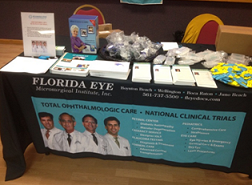 The Expo was held from 10 – 3 p.m. this past November. Attendees were able to receive free health screenings. Everything from blood pressure testing to glucose and hearing checks was offered. Just look at that table!
Florida Eye's Dr. Jason Gorscak, lecturing at Buena Vida in Wellington this past November… Great turnout!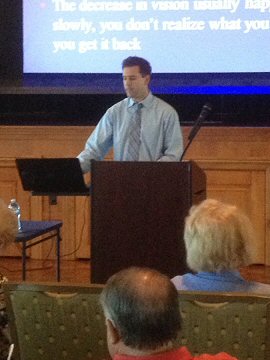 Dr. Gorscak lecturing at Buena Vida
Dr. Gorscak lectured about eye concerns ranging from glaucoma and cataracts to macular degeneration and diabetic retinopathy. Attendees left with Florida Eye goodybags filled with useful materials, including an Amsler Grid to do at home eye checks.
Dr. Gorscak specializes in Refractive Cataract Surgery, Glaucoma & Comprehensive Ophthalmologic Care.
And… Traditions of the Palm Beaches
Dr. Gorscak also presented a lecture at the Traditions of the Palm Beaches in December. The room was filled to capacity!
At The Boynton Beach JCC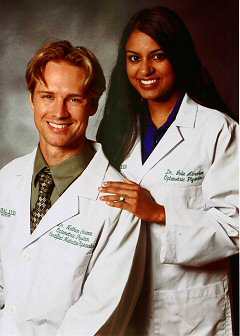 Dr. Nathan and his wife Dr. Julie Abraham Schramm
Nathan Schramm, O.D. stepped in to do a lecture on behalf of Florida Eye this past October and he did a terrific job! Dr. Schramm discussed aging eye issues and the benefits that good nutrition can offer for eye health.
Dr. Schramm's wife, Julie Abraham Schramm O.D. also attended and offered some of her insights to the discussion.
The Schramms practice at the West Palm Beach and Boynton Beach JC Penney optical stores and at their own location in Weston. Learn more about the Schramm's approach to eye health and nutrition.
Florida Eye Plays Santa, Collecting for Toys for Tots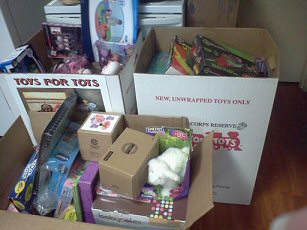 For two weeks in November Florida Eye employees donned Santa hats, buying, wrapping and piling up presents for Toys for Tots. Florida Eye RN
Pam Strickland and her husband Alan have chaired the local 50/50 raffle program and collected toys for several years.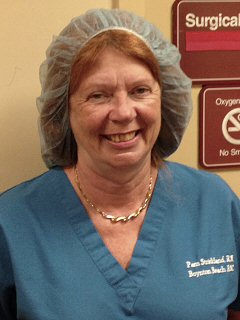 Pam Strickland
"We were very gratified to be able to deliver three huge boxes of toys just from Florida Eye employees alone. Everyone was very generous and thoughtful." Pam and her husband collected toys from five locations in all,with great success. Once the toys were collected they were brought to the 30th annual Bill Bike's Memorial Toy Run held December 2 and picked up by United States Marine Corp volunteers. The Marines sort through the toys and make sure they are distributed to the appropriate age and gender of the child.
Rosa Richards' Scholarship Fund Update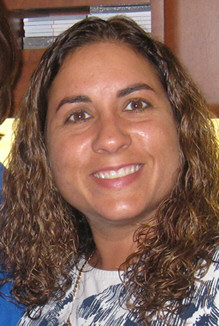 Rosa Richards
The scholarship program the Florida Eye Education Foundation recently established in Rosa's memory has received numerous donations from those wishiing to honor Rosa. As we mentioned in our last newsletter, scholarships are to be awarded each year by Palm Beach State College to a student in the College's Ophthalmic Technology Program.
As this is the season for spreading joy and goodwill, what could be a better gesture of the giving spirit than making a donation to Rosa's Scholarship fund this holiday season?
Donations can be made by check, made out to the Florida Eye Education Foundation and mailed to:
Florida Eye Education Foundation
1717 Woolbright Road
Boynton Beach, FL 33426
Please write "Rosa Richards' Scholarship" in the memo section of your check for accounting purposes. All contributions are tax deductible. Donations can also be made via PayPal.
For more information, contact [email protected].
Florida Eye Education Foundation, Inc. is a 501(c)(3) Nonprofit Organization. A copy of the official registration and financial information may be obtained from the Division of Consumer Services by calling toll free (800-435-7352) within the state. Registration does not imply endorsement, approval, or recommendation by the state.
Cosmetic Specials & News
Visit DrBarrySchechter.com for information on our latest pricing specials on Juvederm and Botox. Also read how pleased patients are with the incredible Ouchless Needle!!
No more pain, but lots of gain!
Calling all Twitter fans…

For the latest in eye care treatments, new technologies and other important eye-related news please follow us on Twitter @fleyedocs.
Florida Eye Gets Another Visit by the Very Busy Baby Stork!!
Congratulations to Florida Eye's Liz Gonzales and proud daddy Lucas Astacio! Liz gave birth to beautiful Nayelli Michelle November 20, 2012 at Wellington Regional Hospital.
We also congratulate Nayelli's brothers and sister, Dominic, Anden & Ayanni!!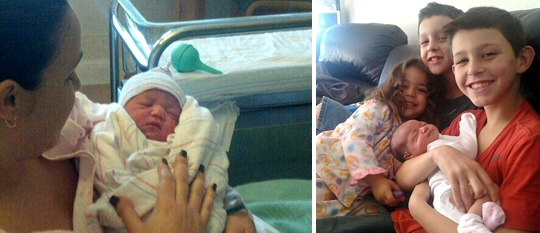 Liz and Nayelli (7lbs 20in @ 12:23p), and The four fabulous sibs!
Contact Us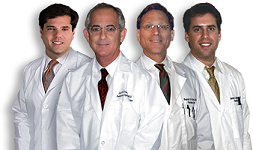 We hope you enjoyed our newsletter and found it useful. If you have any suggestions on how we can be more helpful, contact: [email protected].
. . . . . . . . . . . . . . . . .
---
Related Pages