Home » News and Events » For the Newly Blind, a Guiding Hand on the City's Streets
For the Newly Blind, a Guiding Hand on the City's Streets
Posted by: Florida Eye Microsurgical Institute in Worth Sharing...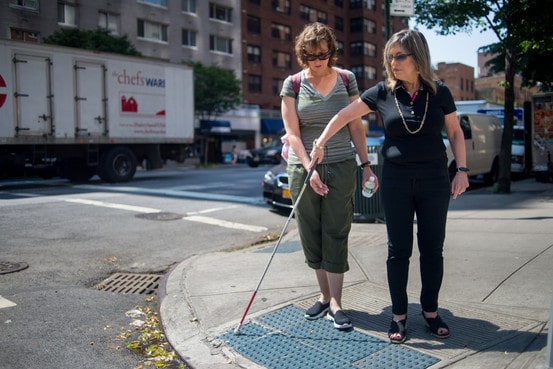 Barbara Robins (right, with cane) is instructed in how to navigate a sidewalk by Diane Formoso, an orientation and mobility instructor with Lighthouse Guild, near Robins home on the Upper East Side. – Craig Warga for The Wall Street Journal
For several minutes, Barbara Robins stood on a curb along East 78th Street, poised to bound across at any moment. But the 4-foot-long cane that she held against her body suggested that wasn't going to happen. Ms. Robins, 66 years old, lost her sight earlier this year and has been learning to adjust ever since.
At her side was Diane Formoso, offering methods for finding the proper direction for crossing to the other side. "In the city, there are a lot of parallel and perpendicular lines," said Ms. Formoso. "If you're off by a couple of inches, it's going to throw you out in the middle of the street."
Ms. Formoso works for Lighthouse Guild, the city's largest provider of services to the visually impaired. She is an orientation and mobility instructor, one of seven whose job is to help the newly blind adapt to their condition and to the unique challenges that accompany it.
Also during their outing, Ms. Robins and Ms. Formoso were identifying cues to navigate a stretch of Third Avenue: the sound of traffic heading north, the smell of grilled meat from a vendor's cart, the vibration of the sidewalk.
Ms. Formoso, who has been with Lighthouse Guild since 1986, recommended several cues to help Ms. Robins set herself on a straight line. The curb, the building line, the bases of street poles, and bus stops all tend to offer a right angle. With about 20 clients at a time, Ms. Formoso stressed the individuality of each case. Some have partial sight and others are blind. Some simply want to get around their apartments on their own; others want to get around the city on public transportation. Their desires are as varied as the causes of their disabilities.
Vision can decline over many years, with each level of degradation presenting new challenges and requiring new coping mechanisms. Or it can disappear in an instant, as with one Lighthouse Guild client who had her optic nerve severed during a cycling collision. About 170,000 city residents are either blind or have serious difficulty seeing, according to a 2012 estimate by the U.S. Census Bureau.
In November, Ms. Robins, a retired school psychologist, began seeing spots in her left eye—a secondary effect of radiation for the successful treatment of a brain tumor. Even with attempts to salvage her eyesight, within just two months, she had lost her sight. Learning to rely on the remaining senses is a frustrating process, particularly in a fast-paced place like New York. When crossing a street, for example, the blind person must listen for the walk signal or the sound of the cars.
"People with sight can look at the color of the light," said Romeo Edmead, 34, a journalist who became blind at age 2. "We have to listen to which way the traffic is moving."
On a walk through Midtown, he deftly walked around several obstacles, including a taxi that had stopped in a crosswalk—a "New York moment," he called it. "Everyone puts his own twist on mobility," he said, noting he preferred to rely on hearing over his other senses.
Six months after losing her sight, Ms. Robins was still grasping the basics. With Ms. Formoso a step or two behind, Ms. Robins slowly made her way up Third Avenue. Her cane let her know—often—that she had drifted: a building wall, a phone booth, a grate over a sidewalk planting. Ms. Robins managed to concentrate on her walk, but that focus came at a price.
Barbara Robins' cane runs along the edge of a curb as she is instructed in how to navigate the city sidewalk.– Craig Warga for The Wall Street Journal
"The only thing I'm concerned about is walking correctly," she said. "It's mentally exhausting. Now I can't do a hundred things at one time." For many of the newly blind, achieving even the lowest level of independent mobility can be daunting. "Many of my clients will think they're ready," Ms. Formoso said, "but once I give them the cane, the emotions come pouring out." About a third of older adults, for example, experience symptoms of clinical depression after losing some of their sight, said Amy Horowitz, a researcher at Fordham University.
Ms. Robins knows firsthand about feeling despondent. She said she was diagnosed with depression about the time she lost her sight. A lover of the arts, she particularly misses the ability to see her favorite paintings and is frustrated by the lack of accommodations at many theaters and movie houses. "There is a sense of mourning—I'm mourning the loss of my vision," she said. "It comes and goes like the loss of a loved one."
Romeo Edmead, 34, blind since the age of 2, walks up the stairs in Central Park. Tadej Znidarcic for The Wall Street Journal. To cope, she sees a psychologist regularly, and takes medication to deal with anxiety and insomnia. Perhaps most importantly, she has a supportive network of friends and loved ones, which experts say is crucial to gain the confidence needed for an independent life.
Advances in technology help, though. Ms. Robins demonstrated her phone's "visual impairment" mode, which guides her through her apps using verbal cues; on a larger scale, all yellow cabs have audio features to provide updates on location and fare.
Now, Ms. Robins wants to direct her energies to help others who are going blind like she did. "I took my sight for granted, and I had very little awareness of the blind population," she said. "When I get all of my services, I want to be an advocate."
By KEITH WILLIAMS, Wall Street Journal, Metropolis, July 31, 2014
---