Benign Tumors and Cysts – Chalazians, Styes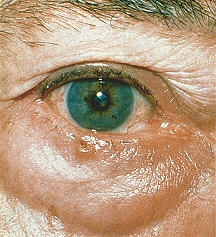 A tumor is an abnormal growth of any tissue or structure; it can be either benign or malignant. Benign tumors often remain localized, while malignant tumors often spread into surrounding structures. A tumor can affect any part of the eye, such as the eye socket, eyeball, eye muscles, optic nerve, fat, and tissues. Sometimes tumors grow into the eye area, or tumors from other parts of the body travel to the eye. Most tumors of the eye are benign.
Eyelid Tumors
Basal cell carcinomas are the most frequently encountered kind of malignant tumor affecting the eyelid, making up 85% to 95% of all malignant eyelid tumors. The most common location is the inner portion of the lower eyelid, particularly in elderly, fair-skinned people. Prolonged exposure to sunlight seems to be a risk factor for developing this kind of tumor.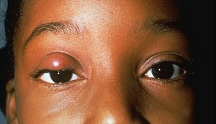 There are many different types of basal cell carcinomas, but the nodular variety is one of the most common. It appears as a raised, firm, pearly nodule with tiny dilated blood vessels. If the nodule is in the eyelash area, some lashes may be missing. The nodule may have some superficial ulceration and crusting and look like a chalazion or stye. Although these tumors are malignant, they rarely spread elsewhere in the body. For most of these tumors, surgery is the most effective treatment. In severe cases when the tumor has been neglected for a long time, it can spread into the eye socket, which may ultimately require removal of the eye and adjacent tissue.
Squamous cell carcinoma is the second most common kind of malignant eyelid tumor (occurring in approximately 5% of malignant eyelid tumors). As with basal cell carcinoma, the most common location is the lower eyelid, particularly in elderly, fair-skinned people. This tumor also appears as a raised nodule that can lead to loss of eyelashes in the involved area. When detected and treated early, the outcome for these tumors is excellent. However, if the tumor is neglected, it can spread to the lymph nodes in the neck. Surgery is the most effective treatment. When detected and treated early, the outcome for this type of tumor is excellent. However, if the tumor is neglected, it can spread to the lymph nodes in the neck. Surgery is the most effective treatment.
Sebaceous cell carcinoma originates in glands of the eyelid in elderly individuals. It is relatively rare but still accounts for 1% to 5% of malignant eyelid tumors. These are highly malignant tumors that may recur, invade the eye socket, or spread to lymph nodes. The tumor may look like a chalazion or stye, making it difficult to diagnose. Immediate surgical intervention is usually necessary for this type of tumor. In some cases, radiation therapy may be an alternative or may be used in conjunction with surgery.
Malignant melanoma makes up almost 1% of all malignant eyelid tumors but accounts for many of the deaths from malignant eyelid tumors. As with any other type of malignant melanoma, these tumors on the eyelid can arise from a pre-existing nevus or mole or may arise with no other pre-existing cause. Again, these tumors tend to occur in sun-exposed areas of elderly, fair-skinned people. Any areas of unusual or altered pigmented should be examined, especially if it is growing or changing color. Surgical removal is usually the recommended treatment.
Orbital Tumors
The orbit is the bony socket that contains the eye, the muscles that move the eye, the optic nerve, and all the related nerves and blood vessels. The different kinds of orbital tumors include:
optic nerve glioma, a benign tumor often associated with neurofibromatosis;
orbital meningioma, a tumor growing from the tissue covering the brain;
hemangioma, a benign tumor made up of blood vessels or vessel elements;
lymphangioma, a tumor made up of enlarged lymphatic vessels;
neurofibroma, a tumor made up nerve cells;
sarcoma, a malignant tumor growing from connective tissue; and
metastasis, a malignant tumor that spreads to the orbit from other parts of the body.
Signs of an orbital tumor include bulging of the eyeball, visual loss, double vision, or pain.
Once the tumor is discovered and imaged with magnetic resonance imaging (MRI) or computerized tomography (CT scan), it is usually necessary to perform a biopsy or remove the tumor in order to diagnose the tumor. If necessary, surgery is usually sufficient for most orbital tumors, including optic nerve glioma and meningioma. Some orbital tumors may require different or additional treatments. For malignant tumors including sarcomas and metastases, radiation therapy and sometimes chemotherapy are necessary.
Chalazion
A chalazion is a swelling in the eyelid caused by inflammation of one of the small oil-producing glands located in the upper and lower eyelids. A chalazion is sometimes confused with a stye, which also appears as a lump in the eyelid. However, a stye is an infection of a lash follicle and forms a red, sore lump. Chalazions tend to occur farther from the edge of the eyelid than styes and tend to "point" toward the inside of the eyelid. Sometimes a chalazion can cause the entire eyelid to swell suddenly, but usually there is a particular tender point.
When a chalazion is small and without symptoms, it may disappear on its own. If the chalazion is large, it may cause blurred vision. Chalazions are treated with any or a combination of the following methods:
Warm compresses help to clear the clogged gland;
Antibiotic ointments may be prescribed if bacteria infect the chalazion;
Steroid injections may be used to reduce inflammation;
Surgery may be used to drain a large chalazion if it does not respond to other treatments. The procedure is usually performed under local anesthesia in your ophthalmologist's office.
Chalazions usually respond well to treatment, although some people are prone to recurrences. If a chalazion recurs in the same place, your ophthalmologist may suggest a biopsy to rule out problems that are more serious.
Lid Margin Disease
Lid margin disease is a common and frequently chronic inflammation of the eyelids. Symptoms include irritation, itching, and, occasionally, a red eye. This condition frequently occurs in people who tend to have oily skin, dandruff, or dry eyes.
Bacteria normally reside on the skin, but in some people, they thrive in the skin at the base of the eyelashes. Nearby oil glands may be overactive, causing dandruff-like scales and particles to form along the lashes and eyelid margins, which can cause redness, stinging, or burning.
Lid margin disease cannot be cured, but it can be controlled with a few simple, daily hygienic measures, such as the following:
At least twice a day, place a warm, wet washcloth over your closed eyelids for a minute. Rewet it as it cools, two or three times. This will soften and loosen scales and debris. More important, it helps liquefy the oily secretions from the eyelids' oil glands, which helps prevent the development of a chalazion, an inflamed lump in an eyelid oil gland.
With your finger covered with a thin, wet washcloth, cotton swab, or commercial lint-free pad, gently scrub the base of the lashes for about 15 seconds per lid.
When medications are necessary, they may include:
artificial tears (over-the-counter eyedrops) to relieve symptoms of dry eye;
antibiotics (oral or topical) to decrease bacteria on the eyelids; and
steroids (short-term), to decrease inflammation.
Medications alone are not sufficient to control lid margin disease; the application of warmth and detailed cleansing of the lashes daily is the key.
---
Related Pages