Home » News and Events » We Are Grateful for Our Patients
We Are Grateful for Our Patients
Posted by: Florida Eye Microsurgical Institute in Worth Sharing...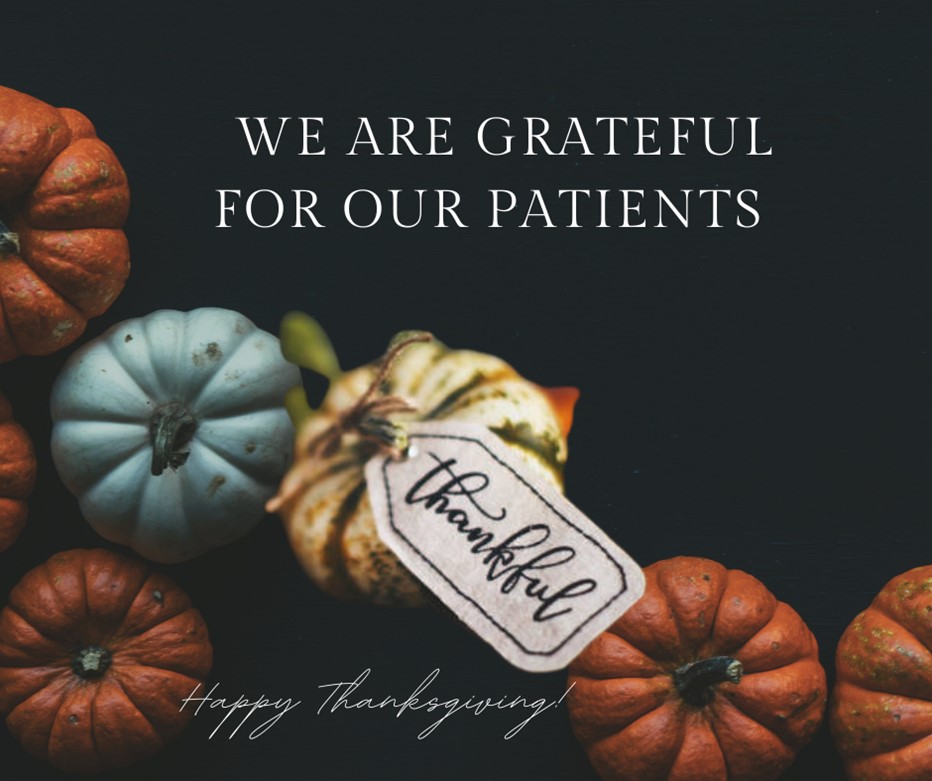 This Thanksgiving season, it's important to acknowledge the things we are grateful for in our lives.
Florida Eye Microsurgical Institute has the opportunity to touch so many people's lives in such a unique way. We often see patients who tell us how their eye care appointments have made a huge difference for them. From boosted self-esteem to a clearer vision to see the world a little brighter, eye care has a powerful impact on daily life activities.
We wanted to take a moment to acknowledge one of the heartfelt "thank you's" we've received. It's kind words from patients like this that motivate and humble us. We're so grateful for all of our wonderful patients.
Thank You Note for Dr. Lee Friedman
"Dr. Friedman and staff, I cannot express in words how much your experience, professionalism and careful hands mean to me and my family. You gave my daughter the precious gift of sight. I truly do not know how to thank you enough."
Thank You Note for Dr. Randy Katz
"I am beyond ecstatic over the improvement with my vision, however, my wife wants to lodge a complaint with you because she says she never sees me anymore. That's because I'm back on the golf course every day, thanks to you!! From one golfer to another, you have my undying gratitude."
Thank You Note for Dr. Barry Schechter
"There are no words to fully express my gratitude, but to you and your staff — Thank you, Thank you — for what you did, what you said & who you are. You raise a very high bar for other physicians because not only are you talented and proficient, but you give compassionate care (especially to 'Nervous Nellies' like me) to your patients. May life bring you a reflection of the kindness and thoughtfulness you have shown."
Thank You Note for Dr. Jonathan Criss
"I am so grateful I chose Dr. Jonathan Criss to perform my cataract surgery. My vision now is better than it's ever been. He is extremely intelligent, a compassionate and caring person and a truly outstanding doctor. I count myself truly lucky to have found him."
At Florida Eye, we are grateful for your trust, and by choosing our practice, you tell us that you trust us, even if you don't say it explicitly. We are incredibly grateful that you believe in what we do, so much so that patients often refer others to our practice. We appreciate you for arriving at your appointment and sharing your positive experiences with others, and we work to show how thankful we are every day.
This Thanksgiving holiday, we want to let you know we are so thankful for every one of our patients, both past and current. We are thrilled to help many people improve their daily lives and their eye health.
We wish you a very happy and healthy Thanksgiving holiday!
---