Home » News and Events » The World in 3D
Posted by: Florida Eye Microsurgical Institute in 2013-11 Issue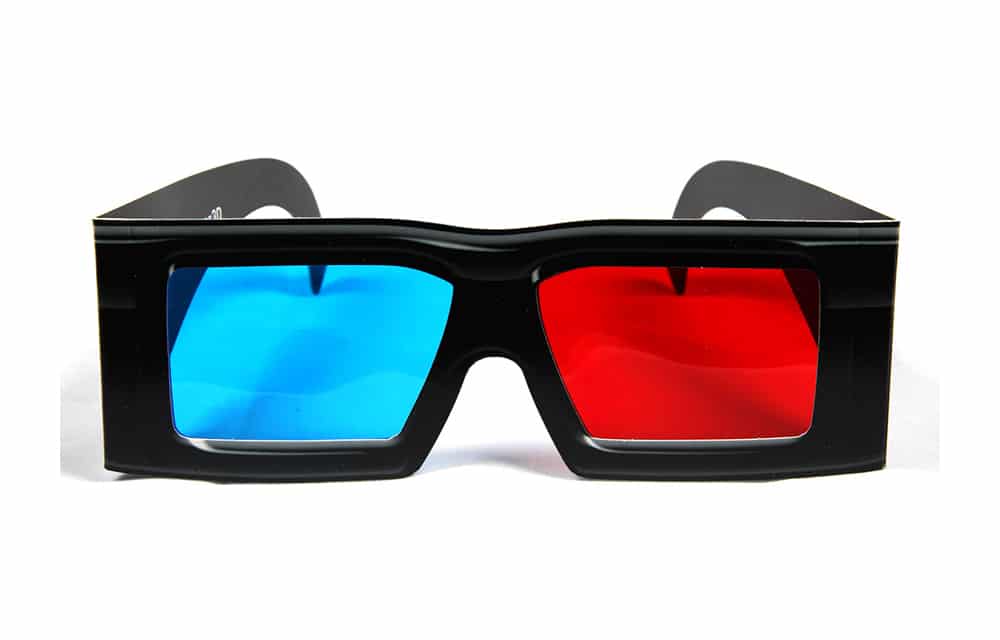 There's no doubt about it. It's a 3-Dimensional (and four!) world these days with 3-D movies, TV and video games more popular than ever before. But with all the fun, have you ever wondered how this technology might be affecting you or your family's vision?
Well, rest easy. Although there are no long-term studies, ophthalmologists agree there is no reason to be concerned that 3-D movies, TV or video games will damage the eyes or visual system. However, what is interesting to note is that some people who complain of headaches or motion sickness when viewing 3-D, could actually be a sign that they have problems with focusing or depth perception. Also possibly significant, the techniques used to create 3-D effects can confuse or overload the brain, causing some viewers to experience discomfort even if they have normal vision.
Binocular vision (Stereoscopy) is the ability to align and focus both eyes accurately on an object and then combine the visual images from each eye into a single, clear three dimensional perception. Difficulty seeing in 3D can arise when eye fatigue occurs, forcing the eyes to make adjustments to focus simultaneously on images that are near and far away.
But what about the kids?
Again, as with adults, there currently are no conclusive studies on the short- and/or long-term effects of 3-D digital products on eye and visual development, health, or function in children, nor are there persuasive, conclusive theories on how 3-D digital products could cause damage in children with healthy eyes. The development of normal 3-D vision in children is stimulated as they use their eyes in day-to-day social and natural environments, and this development is largely complete by age three years.
However, children who have eye conditions such as (an imbalance in visual strength between the two eyes), strabismus (misaligned eyes), or other conditions that persistently inhibit focusing, depth perception or normal 3-D vision, would have difficulty seeing digital 3-D images. That does not mean that vision disorders can be caused by 3-D digital products. However, children (or adults) who have these vision disorders may be more likely to experience headaches and/or eye fatigue when viewing 3-D digital images. (Read more of this article.)
According to the American Optometric Association, 3D viewing can actually help identify and treat previously undetected issues. Florida Eye's Dr. Lee Friedman concurs. "If a healthy child complains of headaches, dizziness or fatigue when viewing 3-D images, it could be a first sign that something is amiss." If such problems occur, or if you can answer yes to any of the following questions, then Dr. Friedman recommends that the child be given a comprehensive exam.
Do you experience eyestrain or headaches during or after viewing?
Do you feel nauseated or dizzy during or after viewing?
Are you more comfortable viewing 2D TV or movies instead of 3D TV/movies?
Is it difficult for your eyes to adjust back to normal after watching 3D TV/movies?
Do other people seem to be enjoying the 3D viewing experience more than you?
Who knew? There Are Even Benefits to 3-D Viewing
The ability to perceive depth in a 3D presentation turns out to be a highly sensitive test of a range of vision health indicators and much more sensitive than the standard eye chart that has been in use for 150 years. This is because 3D viewing requires that both eyes function in a coordinated manner, as they converge, focus and track the 3D image.
The good news is that for the 1 in 4 children that may have underlying issues with vision, 3D viewing can help identify and even treat these undetected problems.
These conditions generally respond well to treatments afforded by a comprehensive eye exam. As an added benefit the treatments will additionally assist the child in most all reading and learning tasks.
For those of you who can't get the warnings out of your head, "Can cause altered vision, lightheadedness, twitching, nausea, disorientation — children and teenagers may be more susceptible to health issues — pregnant women and the elderly should avoid," check out The Medical Minute: Are 3D movies and games bad for your eyes?, and then go ahead — sit back, relax, and revel in our 3-D world.
[/et_pb_text][/et_pb_column_inner][/et_pb_row_inner][/et_pb_column][et_pb_column type="1_4″][et_pb_sidebar orientation="right" background_layout="light" _builder_version="3.0.51″ area="sidebar-1″ remove_border="on" module_class="et_pb_animation_right et-animated et-waypoint" /][/et_pb_column][/et_pb_section][et_pb_section bb_built="1″ fullwidth="off" specialty="off" _builder_version="3.0.64″ background_color="#3c3d41″ module_id="rsc-footer " custom_padding="||0px|" collapsed="on" global_module="5254″][et_pb_row global_parent="5254″ background_position="top_left" background_repeat="repeat" background_size="initial" _builder_version="3.0.51″ background_position_1="top_left" background_repeat_1="no-repeat" background_position_2="top_left" background_repeat_2="no-repeat" background_position_3="top_left" background_repeat_3="no-repeat" custom_margin="||0px|" custom_padding="||0px|" padding_bottom_1="0px" padding_bottom_2="0px" padding_bottom_3="0px" use_custom_width="on" width_unit="off" custom_width_percent="70%" disabled_on="off||" disabled="off"][et_pb_column type="1_3″][et_pb_text admin_label="Text (Florida Eye)" global_parent="5254″ _builder_version="3.0.51″ background_layout="light" text_orientation="left" text_font="Georgia|on|on||" text_font_size="30″ text_text_color="#ffffff" border_style="solid" custom_margin="||0px|" custom_padding="||0.2em|0px" background_position="top_left" background_repeat="repeat" background_size="initial"]
FLORIDA EYE
[/et_pb_text][et_pb_text admin_label="Text (Microsurgical Institute)" global_parent="5254″ _builder_version="3.0.51″ background_layout="light" text_orientation="left" text_font="Montserrat|on|||" text_font_size="24″ text_text_color="#ffffff" border_style="solid" custom_margin="0px|||" custom_padding="0px|||0px"]
Microsurgical Institute
[/et_pb_text][et_pb_text admin_label="Text (Contact Us)" global_parent="5254″ background_layout="light" text_orientation="left" text_font="Montserrat|||on|" text_text_color="#ffffff" text_line_height="1.4em" border_style="solid" custom_margin="||8px|" background_position="top_left" background_repeat="repeat" background_size="initial" _builder_version="3.0.51″ header_text_color="#008080″]
Contact Us
[/et_pb_text][et_pb_text admin_label="Text (List of Locations)" global_parent="5254″ background_layout="light" text_orientation="left" text_font="Source Sans Pro||||" text_font_size="18″ text_text_color="#ffffff" text_line_height="2.2em" border_style="solid" custom_padding="0px|||" background_position="top_left" background_repeat="repeat" background_size="initial" _builder_version="3.0.69″]
Boca Raton Office
Boynton Beach Office
Jupiter Office
Wellington Office
[/et_pb_text][/et_pb_column][et_pb_column type="1_3″][et_pb_text admin_label="Text (Medical Services)" global_parent="5254″ background_layout="light" text_orientation="left" text_font="Montserrat|||on|" text_text_color="#ffffff" text_line_height="1.4em" border_style="solid" background_position="top_left" background_repeat="repeat" background_size="initial" _builder_version="3.0.51″ header_text_color="#008d8d" custom_padding="||0px|" custom_margin="||0.5em|"]
Eye Care Specialties
[/et_pb_text][et_pb_text global_parent="5254″ background_layout="light" text_orientation="left" text_font="Source Sans Pro||||" text_font_size="18″ text_text_color="#ffffff" text_line_height="2.2em" border_style="solid" custom_padding="0px|||" background_position="top_left" background_repeat="repeat" background_size="initial" _builder_version="3.0.51″]
Cataract Surgery
Cornea Surgery
Detached or Torn Retinas
Diabetic Retinopathy
Dry Eye Treatment
Eyelid Tumors and Conditions
General and Emergency Eye Care
Glaucoma Laser Surgery
Macular Degeneration
Pediatric Ophthalmology
Strabismus
[/et_pb_text][/et_pb_column][et_pb_column type="1_3″][et_pb_text admin_label="Text (Signup for Our Newsletter)" global_parent="5254″ background_layout="light" text_orientation="left" text_font="Montserrat|on|||" text_font_size="22″ text_text_color="#ffffff" text_line_height="1.4em" border_style="solid" custom_margin="||8px|" background_position="top_left" background_repeat="repeat" background_size="initial" _builder_version="3.0.51″ header_text_color="#008080″]
Get Our Newsletter
[/et_pb_text][et_pb_text admin_label="Newsletter Subscribe" global_parent="5254″ background_layout="light" text_orientation="left" border_style="solid" _builder_version="3.0.51″ custom_margin="20px|||" custom_margin_last_edited="on|desktop" custom_css_main_element="margin-top:20px!important;"]
[et_bloom_inline optin_id="optin_1″]
[/et_pb_text][et_pb_social_media_follow global_parent="5254″ link_shape="rounded_rectangle" background_layout="dark" url_new_window="off" follow_button="off" _builder_version="3.0.64″]
[et_pb_social_media_follow_network social_network="facebook" url="http://www.facebook.com/florida.e.institute" skype_action="call" bg_color="#3c3d41″]
Facebook
[/et_pb_social_media_follow_network][et_pb_social_media_follow_network social_network="twitter" url="http://twitter.com/fleyedocs" skype_action="call" bg_color="#3c3d41″]
Twitter
[/et_pb_social_media_follow_network][et_pb_social_media_follow_network social_network="google-plus" url="https://plus.google.com/u/0/102386815835671040730/" skype_action="call" bg_color="#3c3d41″]
Google+
[/et_pb_social_media_follow_network][et_pb_social_media_follow_network social_network="pinterest" url="http://www.pinterest.com/fleyedocs/" skype_action="call" bg_color="#3c3d41″]
Pinterest
[/et_pb_social_media_follow_network][et_pb_social_media_follow_network social_network="youtube" skype_action="call" url="http://www.youtube.com/user/fleyedocs" bg_color="#3c3d41″]
Youtube
[/et_pb_social_media_follow_network][et_pb_social_media_follow_network social_network="linkedin" skype_action="call" url="https://www.linkedin.com/company/florida-eye-microsurgical-institute" bg_color="#3c3d41″]
LinkedIn
[/et_pb_social_media_follow_network][et_pb_social_media_follow_network social_network="instagram" skype_action="call" url="https://www.instagram.com/fleyedocs/" bg_color="#3c3d41″]
Instagram
[/et_pb_social_media_follow_network]
[/et_pb_social_media_follow][et_pb_code admin_label="Code (Language)" global_parent="5254″ _builder_version="3.0.51″]<span class="translate-label">Translate Language</span>[google-translator][/et_pb_code][/et_pb_column][/et_pb_row][et_pb_row global_parent="5254″ _builder_version="3.0.51″ background_color="#222222″ background_position_1="top_left" background_repeat_1="no-repeat" make_fullwidth="on" custom_margin="50px||0px|" use_custom_gutter="on" gutter_width="1″][et_pb_column type="4_4″][et_pb_text admin_label="Text (Copyright)" global_parent="5254″ _builder_version="3.0.51″ background_layout="light" text_orientation="center" text_font="Georgia||||" text_text_color="#aaaaaa" border_style="solid" custom_padding="|||10px"]
© 2017 Florida Eye Microsurgical Institute
[/et_pb_text][/et_pb_column][/et_pb_row][/et_pb_section]
---