Home » News and Events » Keratoconus
Posted by: Florida Eye Microsurgical Institute in Worth Sharing...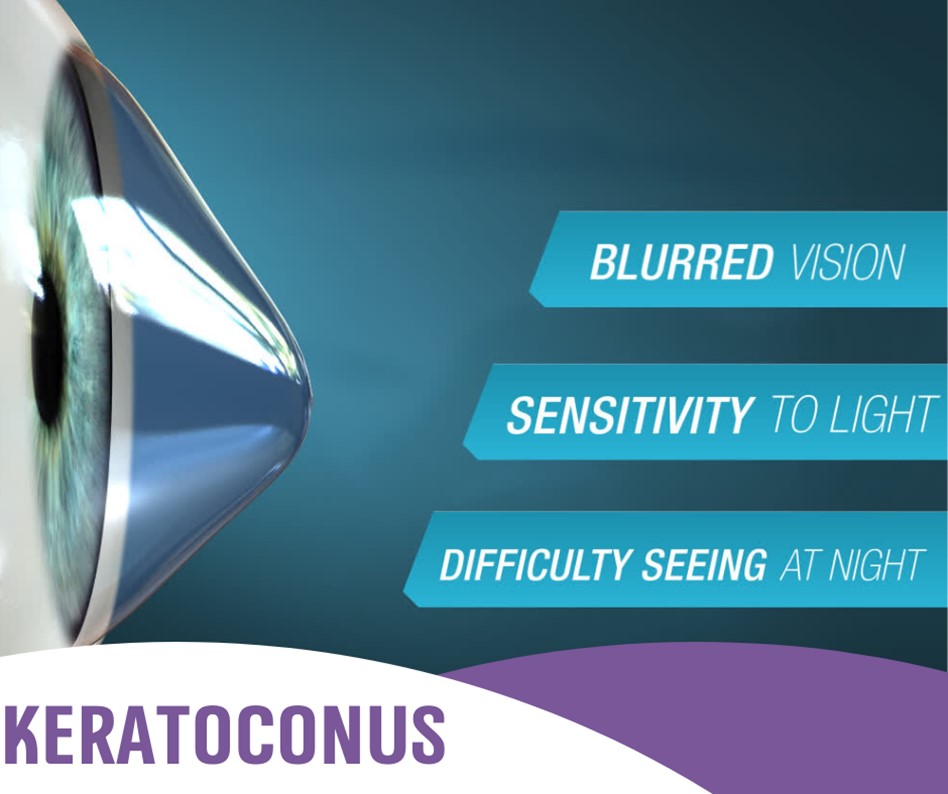 This week we are spotlighting World Keratoconus Day, which takes place on November 10, 2021. This is a perfect time to increase awareness about the condition sponsored by the National Keratoconus Foundation, an educational program of the Gavin Herbert Eye Institute, UC Irvine, to raise awareness about keratoconus (KC). We are joining in to educate about keratoconus and advocate for individuals living with the condition.
Normal Cornea vs. Keratoconic Cornea Vision Simulator
Keratoconus, often called 'KC,' is an eye condition in which the cornea weakens and thins over time, causing the development of a cone-like bulge and optical irregularity of the cornea. Keratoconus can result in significant visual loss and may lead to corneal transplant in severe cases.
What is the Diagnosis and Treatment for Keratoconus?
Keratoconus can be diagnosed through a routine eye exam. Your eye doctor will examine your cornea and may measure its curvature. This helps show if there is a change in its shape. Your eye doctor also may map your cornea's surface using a particular computer. This detailed image shows the condition of the cornea's surface.
How Is Keratoconus Treated?
According to the American Academy of Ophthalmology, keratoconus treatment depends on the symptoms. When the symptoms are mild, your vision can be corrected with eyeglasses. Later you may need to wear special hard contact lenses to help keep the vision in proper focus.
Intacs. This is a small curved device that your ophthalmologist surgically puts in your cornea. Intacs help flattens the curvature of your cornea to improve vision.
Collagen cross-linking. Your ophthalmologist uses a special UV light and eye drops to strengthen the cornea. Doing this helps to flatten or stiffen your cornea, keeping it from bulging further.
Corneal transplant. When symptoms are severe, your eye doctor may suggest a corneal transplant. Your ophthalmologist replaces all or part of your diseased cornea with healthy donor cornea tissue.
Living With Keratoconus
Lack of knowledge often creates fear, so learn all that you can about this condition. Ask questions and discuss your concerns with your eye doctor. This will be both enlightening and reassuring. Also, avoid rubbing your eyes with keratoconus because this can damage thin corneal tissue and worsen your symptoms. If you have itchy eyes that cause you to rub, speak to your eye doctor about your options to control your allergies.
We Are Your Eye Health Partners
Keratoconus is a severe eye condition that needs more attention than it currently receives. You can help spread the word about keratoconus. If you suffer from keratoconus or know someone who struggles with their vision, contact us today to schedule an appointment. There's no time like the present to protect your eye health. Thank you for making us your partners in lifelong eye health!

References: National Keratoconus Foundation and The American Academy of Ophthalmology
---