Home » News and Events » February Is AMD Awareness Month
February Is AMD Awareness Month
Posted by: Florida Eye Microsurgical Institute in Worth Sharing...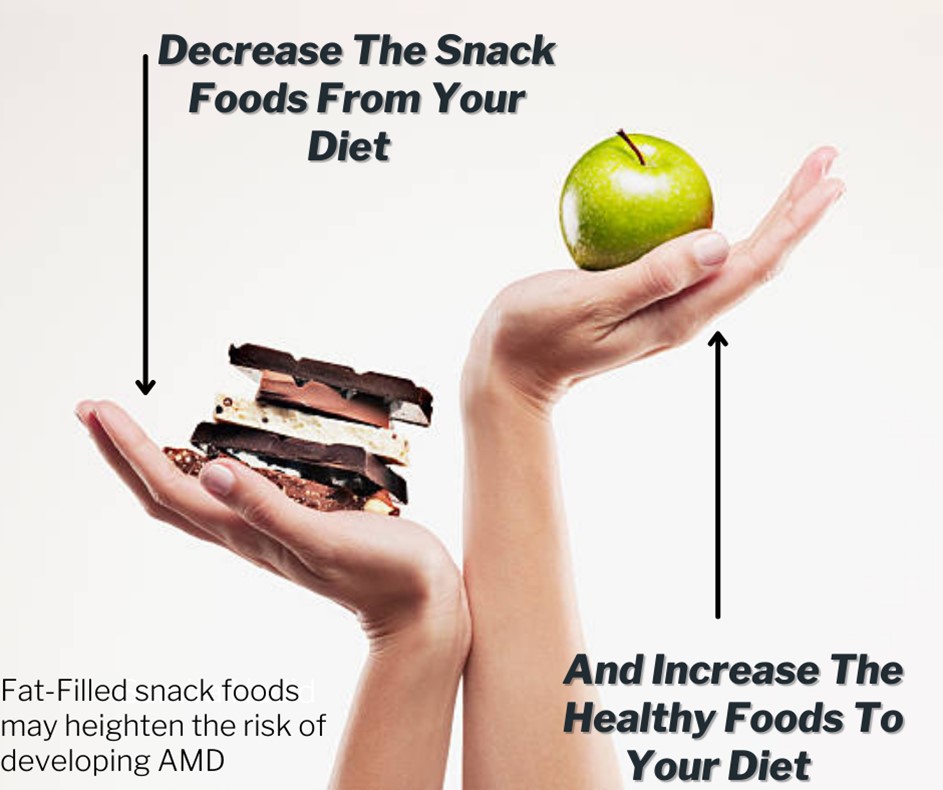 February is Age-Related Macular Degeneration awareness month. Age-related macular degeneration (AMD) is a problem with your retina. It happens when a part of the retina called the macula is damaged. With AMD, you lose your central vision. You cannot see fine details, whether you are looking at something close or far. However, your peripheral (side) vision will still be normal. For instance, imagine you are looking at a clock with hands. With AMD, you might see the clock's numbers but not the hands.
We like to empower our patients with information to bring awareness to eye health and keep your eyesight healthy. We all like to indulge in our favorite snack foods, especially while binge-watching our favorite TV series or having a family movie night. However, during these fun times, are you snacking healthy? Or have you been blinded by junk food? According to an article in JAMA Ophthalmology, fat-filled snack foods may heighten the risk of developing advanced age-related macular degeneration, the leading cause of blindness and vision impairment.
Overindulging in fat-filled snack foods may heighten the risk of developing advanced age-related macular degeneration, the leading cause of blindness and vision impairment in the United States for those over 55. The study shows that specific types of fats, especially the kinds used in processed snack foods, can increase your risk of age-related macular degeneration more than twofold.
Which Snacks Should I Avoid?
Cookies, Chips, and even nuts are on the list. According to the study, vegetable, monounsaturated and polyunsaturated fats, along with linoleic acid, put junk food enthusiasts at a higher risk for eye disease. The foods that contain these fats are highly processed, store-bought junk foods. Included in the study: margarine, chocolate, commercially prepared pie, cake, cookies, peanut butter, potato chips, french fries, and nuts. The study's 349 subjects were between 55 and 80 years old and had advanced stages of age-related macular degeneration.
Avoid highly processed snack foods such as cakes, cookies, potato chips.
Avoid partially hydrogenated fats, especially coconut oils.
What Should You Add to Your Diet?
While snack foods were found to have negative impacts on vision, fish were found to be beneficial. The study found that a diet high in omega-3 fatty acids, found primarily in salmon and albacore tuna, could lessen the risk for age-related macular degeneration as long as fish eaters maintain a low intake of linoleic acid (found in processed food and margarine). A previous study also showed that dark, green leafy vegetables have the same impact. In summary, based on the study, the researchers recommend avoiding highly processed snack foods and consuming two or more servings of fish high in omega-3 fatty acids will promote positive eye health. Keep it simple and include the following healthy foods to your daily diet:
Eat a diet low in fat.
Eat fish high in omega -3 fatty acids two or three times per week.
Increase intake of green, leafy vegetables.
Eating fruit is an excellent snack on the go.
Eat and Snack Right For Your Sight…Your Eyes Will Love You For It!
References
Dietary Fat and Risk for Advanced Age-Related Macular Degeneration, Johanna M. Seddon; Bernard Rosner; Robert D. Sperduto; Lawrence Yannuzzi; Julia A. Haller; Norman P. Blair; Walter Willett, Arch Ophthalmol. August 2001;119:1191-1199.
American Academy of Ophthalmology
American Macular Degeneration Foundation
---