Welcome to Florida Eye
View Our Welcome Video
Welcome to Florida Eye Microsurgical Institute, where our patient's needs are our eye specialists and doctors' top priority. At Florida Eye it is our heartfelt mission to provide patients with the most effective treatments available today, blending the latest technological advances and state-of-the-art medical equipment with care, concern and integrity.
Our highly-qualified, board certified physicians, nurses, medical technicians and staff of more than fifty professionals, offer a full range of comprehensive ophthalmologic care, including routine eye care and examinations, pediatric eye care, pediatric and adult strabismus care, dry eye treatments, and advanced corneal, retinal and cataract procedures.
When it comes to total eye and vision care, we are truly second to none.
News and Events
FLORIDA EYE IS GROWING!
FLORIDA EYE  ANNOUNCES CONSTRUCTION OF ITS NEW COMPREHENSIVE EYE CARE FACILITY IN WELLINGTON, EXPECTED TO OPEN LATE SPRING 2014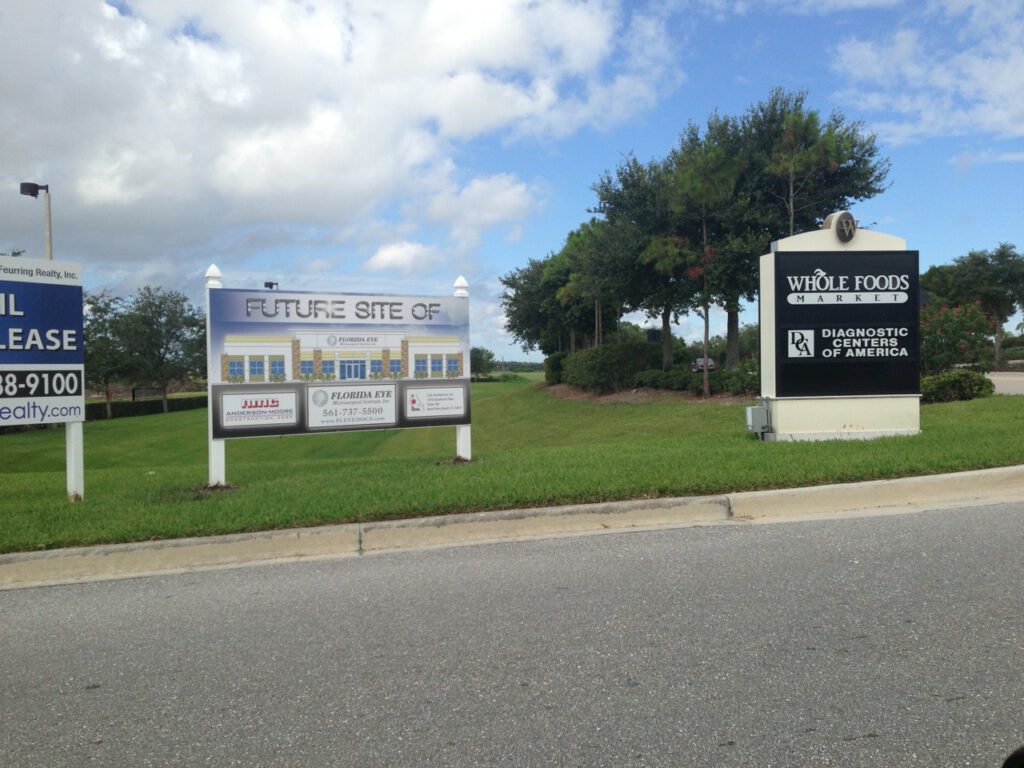 Florida Eye Microsurgical Institute, already a    fixture in Wellington since 2005, has broken  ground and started construction on its new free- standing comprehensive eye practice, located  at 2575 State Road 7, in the Wellington Green  Mall Complex, behind Whole Foods and directly  next to the DCA.
The 7,500 square foot building  will have 3 waiting rooms, 14 exam rooms and 8  testing/treatment rooms.
 More importantly it will have physicians Lee  Friedman, Randy Katz, Jason Gorscak and Barry  Schechter delivering the same quality care and compassion Wellington residents have come to depend on.
The doctors are looking forward to watching their new home take shape. "We have simply outgrown our current space and we need to be able to accommodate our patients as well as make room for the eye care needs of the growing Wellington community," said the Institute's Macular Degeneration & Diabetic Retinopathy Specialist Dr. Randy Katz.
"We feel right at home in Wellington," added Cataract, Glaucoma and Comprehensive
Ophthalmologic Specialist Dr. Jason Gorscak. "We don't just work here; we live here and have strong ties to the community."
The Institute, under construction by Anderson Moore, is expected to open its new doors late March 2014. Like the doctors, Florida Eye Administrator Jason Feuer is also excited about the building. "This undertaking is not only an investment in the Wellington community, but will also offer additional local employment opportunities."
More News:  GO TEAM ROSA!!

FLORIDA EYE MICROSURGICAL INSTITUTE 
Participated and raised funds in memory of  Florida Eye Tech Rosa Richards, at this past Saturday's AHA's Heart Walk.
A GREAT TURN OUT FOR A GREAT LADY!!
YAY TEAM ROSA!! 
One in three Americans have some form of cardiovascular disease, and heart disease kills more women than all forms of cancer combined. Thank you to all who participated in the walk.  

 For more info:      Rosa's Team Page