Home » News and Events » Patient Spotlight: Richard Iceland
Patient Spotlight: Richard Iceland
Posted by: Florida Eye Microsurgical Institute in Worth Sharing...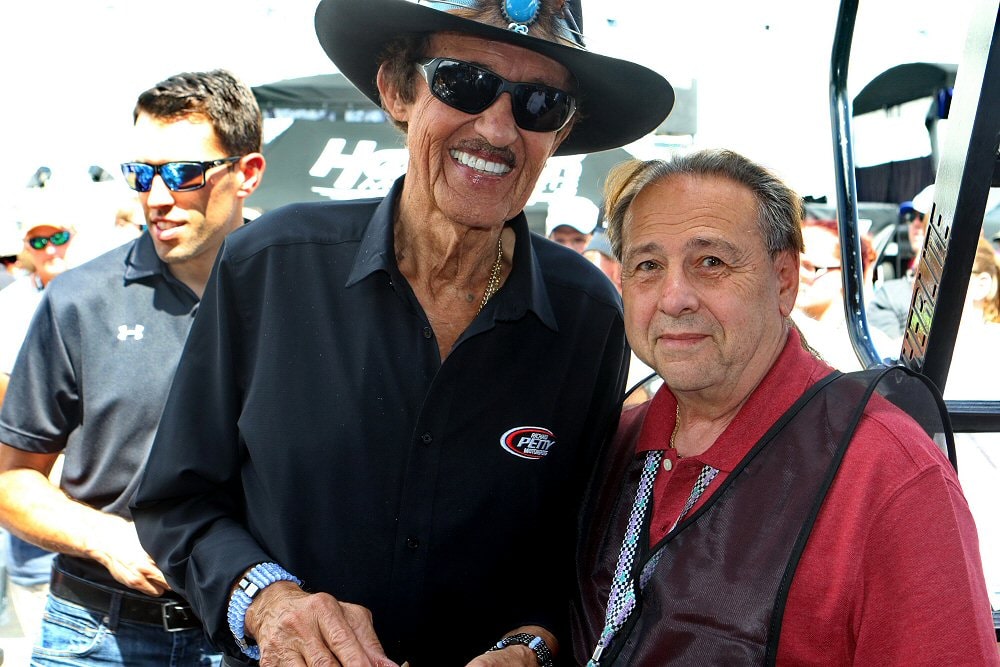 Richard Iceland has had quite an interesting career – and at 73 he's still going strong as a contributing photographer for Inside Track Magazine, for which he covers various NASCAR races and events. Most recently, Richard just shot The Daytona 500 for National Speedsport News and Inside Track Magazine.
What's making his photo shoots (and life) better than ever these days? Crystal clear vision, which he attributes to Florida Eye's Jonathan Criss, M.D. Dr. Criss, who specializes in Medical & Surgical Ophthalmology/Refractive Cataract Surgery, sat down with Richard, discussed his options and together they made a decision.
"Given the premium that Mr. Iceland placed on sharp, uncorrected distance vision and since he had a combination of visually significant cataracts and corneal astigmatism," explains Dr. Criss, "We elected to perform small incision phacoemulsification cataract surgery with placement of Toric (astigmatism-correcting) aspheric intraocular lenses in both eyes." The end results? Rich sees clearly, colorfully, and he's gotten rid of his glasses once and for all.
Of course we're thrilled that Rich is happy with his outcome, but we are even more excited to share his personal story. I mean really, how does one become a NASCAR photographer?
"I started out in high school," recalls Rich. "There was a fair in the high school parking lot, and someone said they were afraid of heights but they wanted a picture from the Ferris wheel in the parking lot, so they handed me a Polaroid camera and I took my first shot. It was from the top of the Ferris wheel, and as I hit the button, the picture came out, and I said, 'wow.' this is neat – and that was the beginning of my career."
Before he knew it Rich ended up graduating high school as the Photo Editor of his yearbook, and he put together his portfolio and started sending it out to different photography schools.
"I guess they weren't good enough, because my first three portfolios that I sent to Rochester Institute of Technology (RIT) were rejected," Rich remembers. "RIT was one of the few schools where you could major in photography. I ended up at Rutgers for a semester and I was unhappy commuting from home (New Jersey) to Rutgers, 30 miles away. I decided half way through the first week of Rutgers to try sending one more portfolio to Rochester and I was accepted. By January of 1963 I was in Rochester and working for Kodak as I attended college. I graduated, went down to NYU in the Village and got my Masters in Fine Arts."
Right out of school, Rich got a job with The Ridgewood News — in New Jersey, and directly below the newspaper office in the basement was Chris Economaki, who owned National Speed Sport News which became the bible of racing. "Chris was just starting out and soon became the spokesman for auto racing on CBS and ABC. I started developing film for his photographers and about six months into it, I asked Chris to let me shoot a race. He told me he did not think I could shoot racing with my limited experience and he was right."
Rich continues, "I repeatedly asked to shoot until he allowed me to shoot a race and when I showed him the results he told me I was fired. He was half serious. He did let me go back to developing film. I soon realized that even with all my education in photography, plus my racing experience (I paid for a good part of college by racing myself as I had sponsors that helped me do quite well), I still didn't know the techniques involved in racing photography. So I started looking at the photographer's negatives and learned from those photographers what was involved in shooting the events. Again, I requested the opportunity to shoot a race, knowing that if I messed up, it would be the last time I would have the opportunity to shoot for Chris."
The second time out Rich got it right, and that's because "Chris made me look at what his photographers produced and I learned from them. My degrees served me little when it came to hands on race photography."
"That's how I got started around 1968. I started working for Chris full time in 1971. I had a stint in the army and shot photography from helicopters. In 1971 I returned to National Speed Sport News and I remained with them for 35 years until I joined another racing publication, Inside Track Magazine, a Canadian based publication. I became the U.S. photographer and am still with Inside Track, but I still shoot occasionally for National Speed Sport News as well. I'm sort of retiring, but not retiring."
What does that mean, exactly? Retiring but not retiring? Well, apparently Rich's idea of retiring is different than most folks, because instead of rocking back and forth in his favorite rocking chair in Tennessee (he's a snowbird along with his wife Jane, and his mother, Mildred (a patient of Dr. Randy Katz's — read about Mildred!), the entrepreneur recently opened up a drone business  – Home Drone Photography. "I just got the bug. I took an aerial shot of my home in Tennessee and I was hooked."
Since hanging out his Home Drone Photography shingle, Rich has already worked with several real estate firms, and loves using his hobby to make some extra money. At Florida Eye, we have no doubt Rich will be successful in all of his endeavors, and we also doubt he'll ever really retire, no matter how you define it.
Rich — you are an inspiration!
---