Home » News and Events » Welcome, Dr. Jonathan Lam!
Welcome, Dr. Jonathan Lam!
Posted by: Florida Eye Microsurgical Institute in Worth Sharing...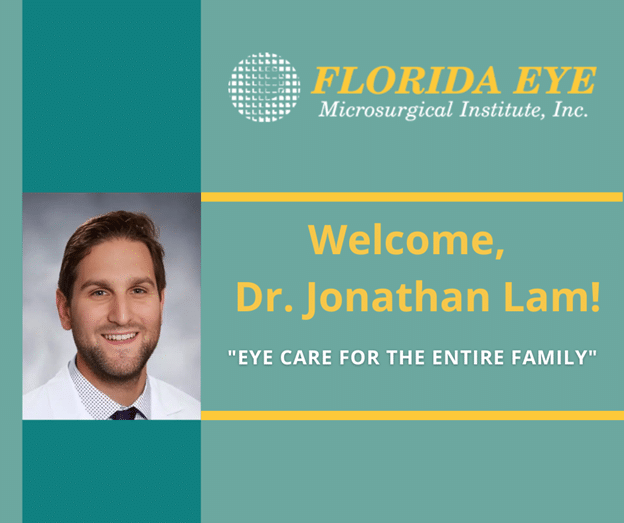 Florida Eye is pleased to announce the arrival of our new ophthalmologist, Dr. Jonathan Lam. As a patient, you can anticipate receiving the utmost attention as Dr. Lam listens to your goals and determines how he can best guide you to achieve them.
Dr. Lam attended Tufts University in Massachusetts and received his M.D. from the Lewis Katz School of Medicine at Temple University in Philadelphia. After completing his Ophthalmology Residency, where he also served as Chief Resident, Dr. Lam completed additional subspecialty fellowship training in Anterior Segment, Cornea, and Refractive surgery at the prestigious Harvard Massachusetts Eye and Ear Infirmary, the #4 ranked eye hospital nationally.
Currently, Dr. Lam is an active member of the American Academy of Ophthalmology, the American Society of Cataract and Refractive Surgery, and the Refractive Surgery Alliance.
He has published and presented his research at both national and international scientific conferences and served as an investigator on clinical trials.
Dr. Lam is fluent in English and Russian and proficient in Spanish. When he's not working, Dr. Lam enjoys playing golf and tennis, traveling, and spending time with his family.
Dr. Lam is seeing patients at our brand-new West Boynton Beach location.
9868 S. State Rd. 7, Suite 240, Boynton Beach, FL 33472
Contact our office TODAY at 561-737-5500 to schedule your appointment with Dr. Lam.
---