Cataract

Surgery, Treatments & Premium IOLs
Serving Palm Beach County with Locations in Boynton Beach, Boca Raton & Wellington, FL
ORA™ System
The only intraoperative aberrometer currently available in the United States is the Optiwave Refractive Analysis (ORA™) system. The ORA™ allows surgeons to take refractive measurements in the operating room to assist in the determination of intraocular lens power by acting as an intraoperative autorefractor. Surgeons can validate or change the lens power selection obtained from standard biometry. The results of this technology generate more predictable outcomes ensuring happier patients. Patients requiring a Toric IOL benefit from this technology as it improves accuracy in lens axis placement, which is imperative in reducing residual astigmatism.
The patients who will benefits the most from the ORA are post refractive patients. Predictability of refractive outcomes in these patients are more reproducible with the use of this technology intraoperatively.
LenSx® Laser Treatment
A bladeless cataract surgery solution! Options for cataract surgery have been changing consistently over time. At Florida Eye, we have been offering premium intraocular lenses (IOLs) and refractive cataract procedures for years. The LenSx® Laser is designed to make clean, geometrically pristine incisions on every plane of the anterior chamber, and, recent upgrades to the software have made it even more effective and possibly safer than ever before.
As described on myalcon's site, the LenSx® Laser is a complete anterior segment cataract workstation. The system's patented variable numerical aperture design adjusts the beam profile to the specific target tissue and depth, increasing precision and efficiency at the corneal plane, capsular plane and lenticular plane. Read more about our use of this treatment option here!
What are cataracts and what is the treatment for them?
Even though cataracts are so prevalent, they are not difficult to treat. Cataracts are a clouding of the lens of the eye, which prevents passage of light into the eye. The solution to cataracts is cataract surgery, which requires a surgeon to remove the deteriorated lens and replace it with an artificial lens called an intraocular lens or IOL. Over 3 million Americans undergo cataract surgery annually, making it one of the most common surgeries in the United States. In fact, the entire surgery lasts only about 20 minutes, and most people can resume normal activities fairly rapidly.
Is cataract removal safe?
Cataract surgery is one of the safest and most effective surgeries with a success rate of 95 percent. Your surgeon will remove your clouded lens and replace it with an intraocular lens (IOL).
Do cataracts only affect seniors?
Cataracts can affect anyone! Although most people do not show symptoms of cataracts until at least the age of 40, cataracts can also affect young adults or even children. Heredity, disease, eye injury and smoking could cause cataracts to develop at an earlier age.
Can I prevent cataracts?
There is no proven way to prevent age-related cataracts. However, choosing a healthy lifestyle can slow the progression of cataracts. Some ways to delay the progression of cataracts include avoiding smoking, reducing exposure to UV rays, eating healthy foods, and wearing proper eye protection to avoid eye injury.
Learn more about cataracts by downloading Risk Factors for Developing Cataracts.
Why come to Florida Eye for cataract surgery?
Florida Eye performs thousands of cataract surgeries each year in our outpatient surgery center. At Florida Eye state of the art technology meets experience, warmth, care and concern, creating an upbeat, confident atmosphere where patients receive impeccable care that is second to none.
Why choose a Florida Eye doctor for your cataract surgery?
Let Sylvia tell you why she chose Dr. Schechter:
I chose Dr. Schechter for my surgery because my son, who is also a physician, told me he is the best. Of course I interviewed two surgeons, but I ultimately chose Dr. Schechter because he was as kind to me as he is knowledgeable."
Dr. Schechter specializes in refractive cataract surgery, corneal transplantation, ocular surface diseases and glaucoma at Florida Eye Microsurgical Institute. A board certified ophthalmologist and fellowship trained corneal transplant specialist, Dr. Schechter has been diagnosing, treating and operating in his field since 1992.
In addition to his outstanding work as a respected physician and surgeon at the Florida Eye Microsurgical Institute, Dr. Schechter is well known for pioneering a variety of ophthalmological treatment and initiating clinical trials. He has also been instrumental in developing and publishing on treatments he developed to treat cancer and severe infections of the eye. Dr. Schechter is a fellow of The Cornea Society and the American Academy of Ophthalmology. Dr. Schechter is also a member of the American Medical Association, the National Sjogren's Society and the Ocular Microbiology and Immunology Group.
Hands down, you're the best! It's only three days post surgery on my cataract and I'm seeing beautifully. I'm so happy, (but heavens, this apartment is very dusty — didn't notice it before!!!). Thank you so very much and to your kind staff too."
And let Harry tell you why he chose Dr. Criss for his cataract surgery:
Dr. Criss is the best! He did my cataract surgery, with great result. He helped me understand a retinal issue I have, and helped me decide what to do about it. He listened carefully and answered all my questions, when I wanted to discuss online research I did. Highest recommendation!"
Jonathan Criss, MD is a board-certified ophthalmologist who joined Florida Eye after several successful years in private practice in Manhattan. As a comprehensive eye physician and surgeon, Dr. Criss provides complete medical and surgical ophthalmologic care. He has a particular interest in small-incision, "no-shot" cataract surgery including the full range of high technology lenses, laser procedures for "after-cataract" and glaucoma, correction of eyelid abnormalities, and evaluation of systemic diseases which affect the eye, such as diabetes and high blood pressure.
A native of New York City, Dr. Criss graduated Summa Cum Laude, Phi Beta Kappa from Yale University. He attended medical school at the University of Pennsylvania School of Medicine where he was elected to the Alpha Omega Alpha Honor Society and was also a recipient of the Walter and Anne Gamble, Walter Lewis Croll, and Bertha Dagan Berman scholarships. He completed his internship in Internal Medicine in the University of Pennsylvania Health System.
Dr. Criss loves ophthalmology because it allows him to care for a broad range of patients, men and women, young and old. He finds improving and protecting patients' vision to be extremely gratifying and strives to provide quality care that is both comprehensive and personalized. Patient education, and involving those he treats in their own health care decisions is very important to him.
Dr. Criss saw me within 15 minutes of my arrival. While I was being examined, he took the time to call my referring physician to discuss my condition. I really appreciated the fact that I was being treated as a person and not just a number. I Highly recommend Dr. Criss."
I think that Dr. Criss is a top-notch opthalmologist. I am both happy and relieved to be under his care for a serious eye infection."
Premium IOLs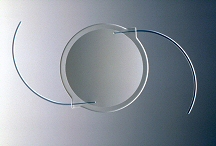 An intraocular lens (IOL) is a tiny, lightweight, clear plastic or silicone disc placed in the eye during cataract surgery. An IOL replaces the focusing power of the eye's natural lens.
Your eye's natural lens plays an important role in focusing images on the retina. When a cataract develops, the lens loses its clarity. Light rays cannot focus clearly, and the image you see is blurry. Eyeglasses or contact lenses usually can correct slight refractive errors caused by early cataracts, but they cannot sharpen your vision if an advanced cataract is present.
The only treatment for a severe cataract is to remove the eye's natural lens and replace it with an IOL. Intraocular lenses offer many advantages. Unlike contact lenses, which must be removed, cleaned, and reinserted, the IOL remains in the eye after surgery.
An IOL may be implanted either in front of or behind the iris. Behind the iris is the most frequent placement site. IOLs can be made of hard plastic, soft plastic or soft silicone. Soft, foldable lenses can be inserted through a small incision, which shortens recovery time following surgery.
The rapid evolution of IOL designs, materials, and implant techniques has made them a safe and practical way to restore normal vision after cataract surgery. At Florida Eye we utilize several Premium IOLs.
TECNIS Synergy™ IOLs
TECNIS Synergy™ IOLs not only address presbyopia as part of cataract surgery, but the lens also allows you to see a continuous range of high-quality vision, which may reduce your dependence on glasses. A range of vision that's as dynamic as your life. From working on computer screens to reading in low-light, our vision needs change from moment to moment. What if you could see clearly from distance to intermediate to near, day and night?
TECNIS Synergy™ Toric lenses offer the opportunity to address both presbyopia and astigmatism at the time of cataract surgery by providing a continuous range of vision, while also addressing astigmatism, for overall less glasses wear.
With TECNIS Synergy™ IOLs, you can see the widest range of continuous vision with best near day and night, while addressing your cataract (with or without astigmatism).
TECNIS Eyhance IOL
INNOVATION IN THE MONOFOCAL IOL CATEGORY
Achieving High-Quality Vision for Living
Today most lenses in the monofocal category only correct vision to help patients with cataracts see things at a distance, and thus do not improve the intermediate vision that is required for many important daily tasks. To better meet the needs of today's patient, Johnson & Johnson Vision introduces TECNIS Eyhance IOL, the first monofocal IOL in Europe to provide high-quality intermediate and distance vision. TECNIS Eyhance IOL allows patients to achieve significantly improved intermediate vision, compared with a standard aspheric monofocal IOL, along with 20/20 distance vision.
Read more about TECNIS Eyhance IOL.
PanOptix® IOL Trifocal Lens
No two patients are exactly alike, but with the Alcon AcrySof® IQ IOL family, we can give our patients choices with excellent outcomes distinctly suited to their lifestyles. Three different types of implantable lenses are designed to meet a patient's individual eye health and needs, and each lens delivers a full range of the sharpest vision, enhanced functionality and long-term sustainability.
The advanced PanOptix® IOL Trifocal Lens is an implantable lens that restores vision after cataract surgery and corrects presbyopia (the need for reading glasses). The lens 99.2% of patients would choose again.
It delivers results superior to those of a standard multifocal lens and offers an excellent chance to become spectacle independent.
Exceptional Full Range of Vision
Compare the following images. In the first image, which demonstrates vision with the Trifocal Lens, you can see the coffee cup up close, the dashboard at intermediate, as well as road signs in the distance — all clearly.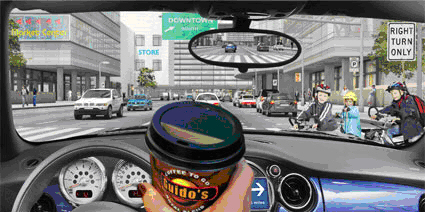 Now, compare the second image. This image demonstrates what you might see with a monofocal lens. Although the intermediate and distance vision is clear, notice how the coffee cup is now blurry.
Nighttime Driving
Immediately after surgery, some patients may notice rings around lights when driving at night. However, as the eye adjusts to the lens, the visual impression of rings may lessen or go away over time.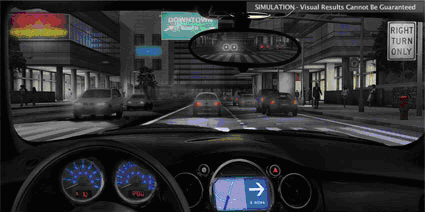 Am I a Candidate?
If you are diagnosed with cataracts and are experiencing one or more of the following symptoms, you may be a candidate for the Trifocal lens:
Difficulty reading
Difficulty seeing close objects
Difficulty seeing to drive, especially at night
Changing glasses prescriptions
Needing bifocals
The traditional lens will give you good vision for seeing objects in the distance, such as when driving. For near or intermediate vision, such as reading or surfing the Internet, you will typically need to wear glasses.
TORIC LENS
While a standard IOL can improve your vision by replacing your eye's cloudy natural lens. If you have astigmatism you may still need glasses or contacts to see clearly. However, depending upon your priorities and lifestyle, your doctor may recommend a premium toric IOL, such as the TECNIS® Toric 1-piece IOL. Its advanced design replaces your cloudy natural lens with the cataract, while it also corrects your astigmatism. This option typically provides patients crisp, clear vision with much less reliance on glasses for distance vision. However, after surgery, you may still need glasses to ensure optimal near (reading) vision.
MULTIFOCAL LENS
These types of lenses are designed to be able to provide patients the ability to see objects clearly at different distances without glasses—near, far, and in between. The lens material distributes light to different distances, which the eye can focus on for sharper vision. For people who are active and find wearing glasses inconvenient, a PanOptix® IOL can be the optimal choice.
Lenses with the most advanced technological innovations are designed to give patients independence from glasses. For example, the PanOptix® IOL lens is intended to give people high-quality vision in a range of light conditions, including low light situations, such as driving at night and reading a menu in a dimly lit restaurant.
Some patients may notice rings or halos around light when driving at night right after surgery. But over time, the visual impression of these rings typically lessens or goes away, as your eye and brain adapt to the lens.
AcrySof® IQ Vivity™ Extended Vision Family of IOLs
At the time of cataract surgery, you can opt for the AcrySof® IQ Vivity™ Lens, which provides a greater range of vision than a standard monofocal lens. The AcrySof® IQ Vivity™ Lens allows you to see clearly at the crucial far and intermediate distances while still providing functional near vision.
Astigmatism-Correcting Lenses
Free Yourself From Cataracts and Astigmatism in One Procedure
Do you have both cataracts and astigmatism? Astigmatism is a common condition that usually occurs when the natural surface of your eye is misshapen. If you have astigmatism, chances are you've worn glasses or contact lenses for much of your life.
Today's technology means you can treat both cataracts and astigmatism at once during cataract surgery. During surgery, your surgeon replaces the cataractous lens in your eye with a new lens, known as an intraocular lens (IOL). You can choose an IOL that can treat astigmatism as well as cataracts, allowing you to enjoy more activities with reduced dependency on glasses, including playing golf and driving a car.
The astigmatism correcting lens can greatly reduce or even eliminate your need to wear glasses for clear distance vision, though you will likely still need glasses for reading.
A Basic Option for Correcting Cataracts
If you'd like to treat your cataracts but don't need or want to correct other vision problems, such as presbyopia and astigmatism, then a monofocal lens could be a good fit for you. Monofocal lenses are designed to significantly improve visual clarity and quality,1 though you'll still have to wear glasses or contact lenses.
Experience the Freedom of Vision at All Distances
Imagine driving with more confidence. Or golfing without losing sight of the ball. From reading to playing tennis to playing bridge, you can experience clear vision at near, intermediate and far distances with the help of multifocal lenses.
When you opt for cataract surgery with multifocal lenses, you're opting for the opportunity for freedom from both cataracts and presbyopia, a condition that makes it difficult to focus on objects that are close to you as the lenses in your eyes lose flexibility with age.
Multifocal lenses can even help you reduce your dependency on glasses. In fact, four out of five recipients reported never wearing glasses after having the lens implanted in both eyes. Read more.
TECNIS® SYMFONY® EXTENDED DEPTH OF FOCUS IOL
Mitigate the effects of prebyopia while delivering brilliant, continuous vision.
TECNIS® SYMFONY® TORIC EXTENDED DEPTH OF FOCUS IOL
Address both presbyopia and astigmatism while delivering continuous vision.
Eyes are more accurate witnesses than ears. Please make sure that you witness all the wonder and beauty that life has to offer by having your eyes cared for regularly — no matter what your age!"
By age 80, more than half of all Americans either have a cataract or have had cataract surgery, but what many people don't realize is that babies, children and just about anyone can develop cataracts."
If you are age 60 or older, you should have a comprehensive dilated eye exam at least once every two years. In addition to cataract, your eye doctor can check for signs of age-related macular degeneration, glaucoma, and other vision disorders. Early treatment for many eye diseases may save your sight.