About Florida Eye

Microsurgical Institute
Eye Care for the Entire Family
Our Philosophy
At Florida Eye Microsurgical Institute, we dedicate ourselves to providing our patients with the same respect and top-notch services that we would expect to receive when seeking medical assistance for ourselves. When patients come to Florida Eye, they become a part of our family, and we pledge to do our utmost to help care for their vision. Through exams and corrective procedures, patient education, and continued contact, we keep patients healthy, informed, and seeing the world more clearly.
Our Vision Care Center
The Florida Eye Microsurgical Institute is an ophthalmologic surgeon's dream come true. The most current technical equipment enables physicians and staff to offer patients optimum eye care, from everyday eye exams to serious surgical procedures.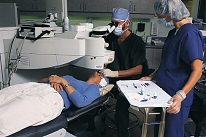 Located right within the Institute, the Boynton Beach Ambulatory Surgical Center makes it very convenient for doctors and patients to interact. Outpatient surgical procedures are performed with the most technically advanced equipment available today.
Our vision care center has a pediatric wing, as well. The wing's idea was to have a place specifically for children where they would feel comfortable and at ease with their surroundings. Staff and associates are friendly, making both parents and children alike comfortable while in the waiting room.
A Vision Care Center is Born
Drs. Randy Katz and Lee Friedman purchased Florida Eye Microsurgical Institute in 2004 from Dr. Jonathan Chua, who established the practice in 1975.
Under the direction of Drs. Katz and Friedman, the mission of the Institute remains the same — to provide an outstanding vision care center to the population of South Florida. The addition of Dr. Barry Schechter as the Institute's third partner, followed by Dr. Jason Gorscak as a fourth partner, has made it possible for the practice to reach out to even more patients, offering a more comprehensive range of eye care solutions.
The practice has multiplied since its founding, adding another full-time ophthalmologist in 2016, Dr. Jonathan Criss, and another in 2021, Dr. Megan Rowlands, and an optometrist, Dr. James Walsh. Now, we are currently recruiting one retina specialist. The practice is managed by Jason Feuer, an experienced administrator with 22+ years of ophthalmology experience.
Florida Eye Microsurgical Institute has recently partnered with EyeSouth Partners, a Southeast eye care management organization, to ensure high-quality administrative support, clinical quality, and long-term stability and growth of the practice.
With locations in Wellington, Boca Raton, and Boynton Beach, patients can be seen at the location most convenient to them.